IAM Cycling could drop one-year contract policy to attract big name riders
The Swiss team currently only offer riders a maximum one-year contract, but could adjust its policy to land a top rider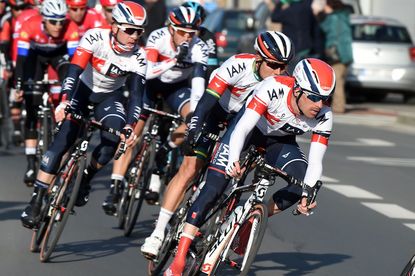 (Image credit: Watson)
IAM Cycling may re-evaluate its single season contract policy to secure a marquee signing.
The Swiss outfit is actively seeking a co-sponsor to afford the hefty price tag that commonly comes with the calibre of rider it is seeking to breakthrough in the WorldTour.
The move is similar to what Dimension Data underwent with Mark Cavendish this season, arriving at an independent agreement with Deloitte that effectively enabled the transfer.
IAM currently only issues one-year contracts to its riders, which is contrary to the two to three-year deals typically brokered at rival WorldTour squads.
"Everything will depend on the duration of the contract that could be determined with the potential co-sponsor," IAM sports director Rik Verbrugghe said.
"Based on that agreement then we could either remain on the one-year contract policy or, alternatively, offer longer commitments to our riders."
IAM management wants to make a great impression in the WorldTour from 2017 and sees the procurement of a big name as the best way of doing so.
Watch: 2016 Paris-Roubaix highlights
"If you want to move on in the WorldTour you need to have top riders in the team and for this reason we need a co-sponsor," Verbrugghe said.
"We have a really solid team and we have good potential but we are missing one or two top riders to finish the races. You know, [Peter] Sagan is not one of the cheapest riders and you need to have an extra budget for this."
Sagan, provided as an example, is popularly considered one of the highest paid men in the peloton with an existing multi-year deal at Tinkoff rumoured to be worth around €4 million.
"We are now in a crucial moment where the sponsor, he wants to continue on a higher level and for this he needs to have some extra money and for extra money you need a co-sponsor. We are looking for a co-sponsor and then we can really go a step higher," he said.
Verbrugghe admitted the transition from Professional Continental to WorldTour, which the team joined last season, hasn't been easy.
"Two years ago the UCI asked us to go in the WorldTour as there were not enough teams. So we made that step but we were not prepared," he observed.
However, the squad, established as Pro Continental in 2013, is on a good way with consistent results albeit at less renowned races.
"I saw the same thing with BMC when they started in the WorldTour and look where they are now. I think the most difficult part of the WorldTour for the team has passed and we need to get over this. We are still working on a good way for 2017," Verbrugghe said.
"If you put all of this together, you go to the Tour de France, you will have an extra good rider or two riders, so that can hopefully help a sponsor to sign a contract with us for the future."
Thank you for reading 10 articles this month* Join now for unlimited access
Enjoy your first month for just £1 / $1 / €1
*Read 5 free articles per month without a subscription
Join now for unlimited access
Try first month for just £1 / $1 / €1
Sophie Smith is an Australian journalist, broadcaster and author of Pain & Privilege: Inside Le Tour. She follows the WorldTour circuit, working for British, Australian and US press, and has covered 10 Tours de France.