Peter Sagan shows off new Bora-Hansgrohe world champ's kit
The German team revealed the new kit for the world and national champions of the team first time since being given WorldTour status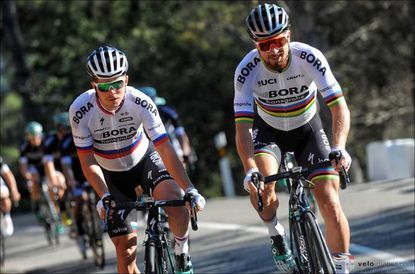 Despite having revealed their new team jersey towards the end of 2016, Peter Sagan has had to wait show off his new Bora-Hansgrohe world champion's kit.
The German squad revealed on Monday the rainbow bands Sagan will wear for 2017 after his triumph in Doha in October, as well as the kits his brother and Slovakian champion Juraj, Polish champion Rafal Majka and Portuguese champion Jose Mendes will all wear.
The squad also revealed the first photos of them riding as a team aboard their Specialized bikes, which came on as bike supplier after team Tinkoff folded at the end of 2016. Sagan has already revealed pictures of his new custom Venge ViAS in December.
Keeping it simple seems to be the name of the game as far as kit design goes at Bora, with the new champions' kits kept sleek and minimal with the torso bands and black shorts. Likewise the team's standard kit looks like a winner, with a predominantly black design with teal touches and white cuffs on the shorts and jersey.
Bora will make their WorldTour debut at this month's Tour Down Under with Sagan, who began his professional career at the Australian in 2010.
Check out more photos of the new Bora kit below.
Thank you for reading 5 articles this month* Join now for unlimited access
Enjoy your first month for just £1 / $1 / €1
*Read 5 free articles per month without a subscription
Join now for unlimited access
Try first month for just £1 / $1 / €1