Boonen absent from Tour de France presentation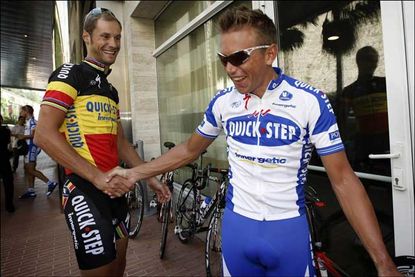 Follow our updates from the Tour presentation at http://twitter.com/cyclingweekly
Tom Boonen was absent when Quick Step presented its nine Tour de France riders at this evening's official team presentation in Monaco.
Boonen is still awaiting a verdict from the French Court of Arbitration for Sport on whether he can ride in this year's Tour de France. His place on the stage was taken with Australian sprinter Allan Davis, who had previously been announced as a stand-in should Boonen not be able to ride.
Boonen was told he was not welcome to ride this year's Tour de France by the race's organiser, Amaury Sport Organisation (ASO), after he failed an out-of-competition test for cocaine.
Boonen's lawyer subsequently took the case to the French courts, who then passed it on to the French Court of Arbitration for Sport for a decision.
A decision was due this afternoon, but with no news forthcoming Quick Step were forced to present Davis in place of Boonen. Boonen could still get to ride if a decision in his favour is made before the Tour starts with the stage one time trial on Saturday.
The 2009 Tour de France starts on Saturday, July 4, in Monaco, and finishes in Paris on July 26.
Tom Boonen shakes hands with Allan Davis prior to the Tour team presentation in Monaco
RELATED LINKS
Tour de France 2009 - Cycling Weekly's full coverage
Thank you for reading 20 articles this month* Join now for unlimited access
Enjoy your first month for just £1 / $1 / €1
*Read 5 free articles per month without a subscription
Join now for unlimited access
Try first month for just £1 / $1 / €1