Greg LeMond: The Giro was like a training ride in my day
Three-time Tour de France winner Greg LeMond backs Alberto Contador's Giro-Tour double, but says it will be harder than when he rode them in the eighties.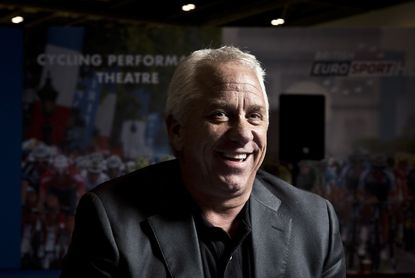 (Image credit: chris catchpole)
Greg LeMond is no stranger to completing Giro d'Italia and Tour de France doubles, but the American insists Alberto Contador will face a stiffer challenge to win both this season than riders did in the eighties.
While LeMond never claimed victory in the Italian race, he started both the Giro and Tour five times in his career, with top-five finishes in both on two occasions.
Speaking to Cycling Weekly at the London Bike Show, the three-time Tour winner admitted the Giro organisers have made their race a lot more difficult since his era, but says Contador's experience of winning both races individually will give him an advantage in his quest for the double.
"If Contador is to win the Giro it will be a big exploit," he said. "It's not the equivalent of winning the Giro in my era - it was like a training race when I raced it. I wish I had had the chance to race one like it is now.
"Physiologically I don't think there's a reason why he can't, but psychologically it's more difficult to stay at that level through to the Tour de France. If anybody can do it, he can. He's got the experience and it looks like he's riding as well as ever."
Should Contador succeed in Italy, then comes the small task of repeating the feat at the Tour de France, which starts just 34 days later in the Dutch city of Utrecht.
With the Spaniard withdrawing from the 2014 Tour through injury on stage 10, LeMond says El Pistolero will want to answer the questions that remain from his early departure as to whether he could have challenged eventual winner Vincenzo Nibali.
LeMond, however, admits the route of this year's Tour - absent of any significant individual time trial - plays into the hands of Colombian prodigy Nairo Quintana and the winner won't be able to play a defensive gameplan in the mountains.
"It seems like a lot of the Tours are designed for climbers because climbers are winning them, but this year it seems like it is definitely made for a climber," said LeMond, who will be covering the Tour with Eurosport. "I never realised that [the organisers] might be doing that to benefit specific riders. But most of the riders who are competitive are good in the mountains, so they might be trying to find out who is the best climber.
"[Bradley] Wiggins is a more classic Tour de France winner. He's a time triallist and it's a normal strategy if there's long time trials to [be more defensive] in the mountains. But this year I'm excited because it's going to be a great race. It's going to be great because of the questions left from last year's Tour about Contador and Chris [Froome] crashing out, Quintana wasn't there, was Nibali lucky.
"Last year was a good, exciting Tour because we saw some French riders doing incredibly well, but this year we'll see the four best riders against each other."
Thank you for reading 20 articles this month* Join now for unlimited access
Enjoy your first month for just £1 / $1 / €1
*Read 5 free articles per month without a subscription
Join now for unlimited access
Try first month for just £1 / $1 / €1