Hunt and Lloyd look forward to making their Tour debuts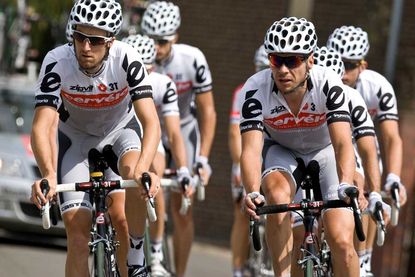 Jeremy Hunt gave a wry smile when Cervélo's press officer mentioned his age at the team's pre-Tour media briefing on Thursday.
Did they really need to draw attention to the fact that Hunt is 36 years old? However, it is relevant because he is the oldest debutant in the race this year. Now in his 15th season as a professional, the Tour is a race the man from Devon thought had passed him by.
Daniel Lloyd, 29, is also a Tour first-timer, having been called up from the reserve list to replace Heinrich Haussler, who injured his knee in the now infamous crash with Mark Cavendish at the Tour of Switzerland.
Their Tour experience begins here, at the Carlton Oasis hotel in Spijkenisse, a short drive south of Rotterdam. These are not glamorous surroundings. The skyline up by the main road is dominated by the ugly chimneys of a chemical works. The hotel itself is on an industrial estate, opposite a car dealership.
Cervélo Test Team, Bbox Bouygues Telecom and Team Sky are all staying here. The hotel reception is old fashioned, with a garish patterned carpet and pink neon lights pointing the way to the brasserie, health centre and lounge. Somehow it doesn't seem quite right for Cervélo and Team Sky, two teams that seek to be at the cutting edge of innovation, to be here.
CW caught up with them Hunt and Lloyd after the Cervélo team's press conference just as Hunt was leafing through the team's publicity brochure. Arriving at his page he says, with a broad grin: "I thought I was better looking than that."
Hunt is a key part of Thor Hushovd's lead-out team and will be the second from last rider to peel off, leaving Australia's Brett Lancaster to do the final turn before the Norwegian goes for it. Lloyd, who rode much of the Giro d'Italia at Carlos Sastre's side, is unsure of his specific role until he has a discussion with the team management because he's not a like-for-like replacement for Haussler. It's likely he'll work for both Hushovd and Sastre.
CW: Jeremy, it's taken you 15 years to get to the Tour de France. Did you think the chance had passed you by?
Hunt: I'd given up. I thought it wasn't going to happen.
CW: When did you find out?
Hunt: Officially? The day after the Tour of Switzerland but it's been the plan to get here.
CW: What happened in the time trial at the end of the Tour of Switzerland? You missed the time limit.
Hunt: I had a mechanical, but I was going well in the race. I'm feeling good.
CW: How did it feel to be told you were riding the Tour?



Hunt: When you're hoping to ride and then you get the call, it's a great feeling. This is the one really, isn't it.
CW: You've been close before, but it's never quite happened.



Hunt: When I was at Banesto, they asked me to ride and I said 'no, I'll wait till next year'. That was in 1997. There's been a few chances. I was close with Big Mat [2000] but they took all French guys and a Russian. At Crédit Agricole a couple of years ago I wasn't going brilliantly but I was going well enough to go to the Tour. But in French teams you have to be flying two months before the Tour to get in the team and then you get to the race and you're... well, you're knackered.
With this team, they told me what they want me to do and what I had to do to get in the team. They want me to be flying here, not at the Tour of California or the Tour of Switzerland. They want me going well here and the form has come.
CW: Why did you turn down the chance to ride the Tour with Banesto in 1997? Was it because you were young [Hunt was 23] and didn't want to hammer yourself?



Hunt: Not really. I was flying at the time but I'd just signed a new contract so I didn't think I needed to do the Tour that year. I thought I'd do it the next year but it didn't happen.
Lloyd: You thought you had 16 years of riding the Tour ahead of you!
Hunt: You never know what's going to happen. Now, I'd say if you get a chance to ride the Tour de France, take it.
CW: Daniel, presumably you weren't expecting this until Heinrich got injured? When did you find out?



Lloyd: On the Friday before the Nationals, I got the official call but on the Monday before that I was told to be ready because they weren't sure about Heino's knee. I was gearing up for it from then really.
Hunt: You should have said no, you should have tempted fate!
Lloyd: There's no way you say no to that question, is there! Jez was a lot younger than I was when he had his chance but for me, it's a great chance.
Daniel Lloyd (second left) and Jeremy Hunt (right) with team leader Carlos Sastre (middle) practising on the cobbles on Wednesday


CW: What are you looking forward to?



Lloyd: Before we've even started, I think we've got an advantage over a lot of other first-time riders because we've got someone who's won the green jersey and someone who's won the Tour, so it's not just a case of ambling in and trying to get round. We've got a big focus from day one and that makes a big difference over three weeks. It makes the time go quicker because you've always got a job to do.
Hunt: I want to help Thor win the green jersey. That is my goal. It'd be great to be a part of that. If you're in a team where you're just riding round, it's not the same. I am here to do something that I enjoy, working for Thor. I don't enjoy sitting at the back of the bunch doing nothing. [He pauses, then laughs] Well, sometimes I like it when I can get away with it, but there's a time to get to the front isn't there...
CW: Technically, what is it like to be a lead-out man in your position?



Hunt: It's easier. The pressure is on because you've got to get it right but it's off because it's not down to you to win. You've got to keep the pace high but constant. Sprinting for yourself there's a lot more pressure and you've got to really want to do it.
CW: Can you go head-to-head with HTC-Columbia?



Hunt: I don't know. I think there's Columbia and Garmin who are both strong. If you look at Garmin's team, they are very strong. But if all three teams are lined up alongside each other it's going to be a mess, so we'll see what happens.
CW: Have you noticed the scale of this race compared to others you've done?



Lloyd: It's the first day for me so not really. There's the press conference before the Giro but there's not as many journalists or photographers there. When you are inside the race you don't really get a sense of how big it is. Last year I was in Monaco, commentating for Eurosport, and you go into the press room and see how many people are in there and you realise how big a deal it is.
CW: Who are you rooming with?



Hunt: I'm in with [Xavier] Florencio, because I speak Spanish.
Lloyd: I'm in with Brett [Lancaster].
CW: Noticed any bad habits yet?



Hunt: Not yet, but there's three weeks to go.
Related links
Tour de France 2010: Who will win?
Brits at the Tour de France 2010
Tourde France 2010: Cycling Weekly's coverage index
Photographs provided by Tata Consultancy Services (TCS) the Official
Technology Partner of the Cervelo Test Team
Thank you for reading 20 articles this month* Join now for unlimited access
Enjoy your first month for just £1 / $1 / €1
*Read 5 free articles per month without a subscription
Join now for unlimited access
Try first month for just £1 / $1 / €1