MTN-Qhubeka title sponsor to withdraw its funding
Telecommunications company MTN will cease to sponsor the Qhubeka team after 2015 as it looks to scale back its various sponsorship engagements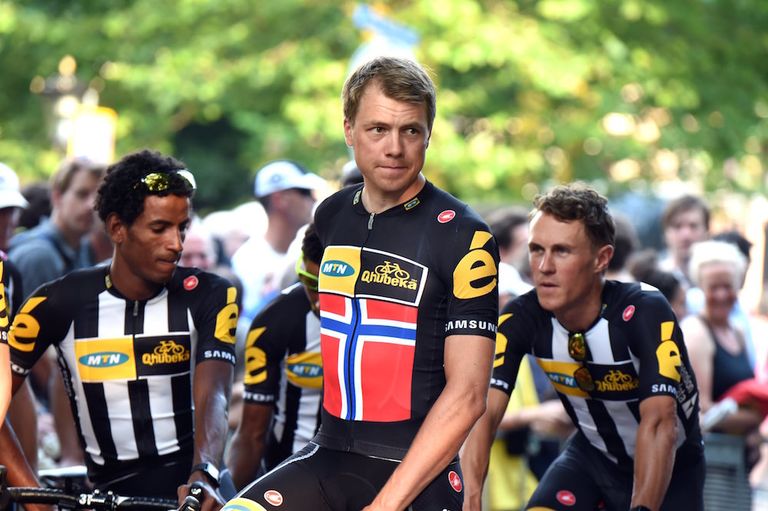 (Image credit: Watson)
Despite an overwhelmingly successful Tour de France, African telecommunications company MTN will withdraw their funding from the Qhubeka team at the end of the season.
MTN reportedly spend around R100m (over £5m) sponsoring the team since 2013, but feels the return on investment in cycling and other ventures does not justify the expenditure.
"Considering … the tough operating environment in the telecommunications industry we've really had to reassess' not just the Qhubeka sponsorship' but a number of other engagements we feel don't have a return on that investment at the levels of comfort to us'" corporate affairs executive Chris Maroleng told Times Media.
MTN-Qhubeka shone in the Tour de France, recording 14 top-10s, four days in the polka dot jersey with Daniel Teklehaimanot and winning a stage through Brit Steve Cummings.
When contacted by Sowetan Live, team principal Douglas Ryder was reportedly surprised to hear the news but was not concerned about the future of the team.
"The team has many options going forward' huge interest as you can imagine' so the future of the team is incredible. There's no issues there," he said.
It is reported that Tour de France's official technology partner, Dimension Data, will be the title sponsor of the team in 2016, with the South African company already backing the team in 2015.
Take a look inside the MTN-Qhubeka mechanic's truck