Tour de Suisse final stage shortened due to snow
Stage nine of the 2016 Tour de Suisse was shorted before it started due to snow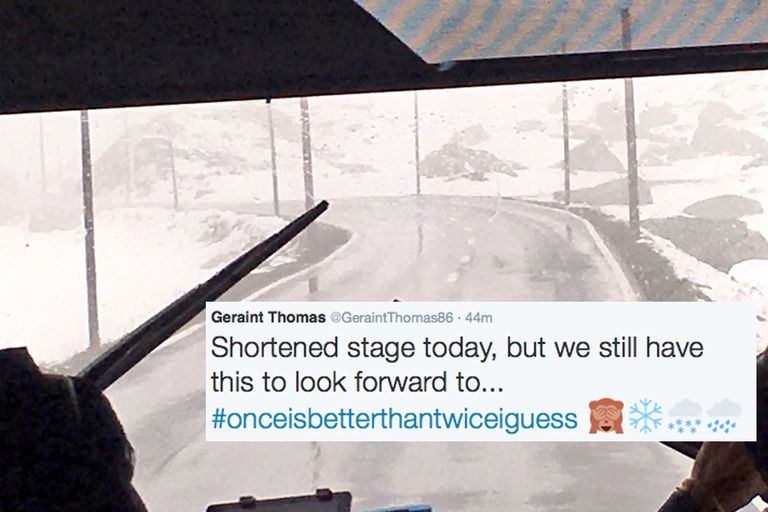 Due to snowy conditions, the final stage of the 2016 Tour de Suisse has been shortened by the organisers.
Photos from the mountains show what the weather is like, and riders have met the decision with positivity.
The Tour de Suisse official twitter account carried an updated graphic to show the ground that stage nine will now cover.
This was put more simply with an updated route profile.
Much talk over the past few seasons has been about the way in which race organisers and the UCI react to adverse whether, both cold and hot.
The Extreme Weather Protocol has been introduced in the hope of avoiding rider protests, but above all to keep riders safe in extreme heat or on snow covered roads.
The move to shorten the final stage of the Tour de Suisse was met with positive comments from riders, who appreciated the clarity given by the organisers.
Recent stage races have included shorter mountain stages to liven up the racing, so we could still see some movement in the top ten.
Other riders, however, had different ideas about how the stage could be approached.
While Geraint Thomas (Team Sky) rolled out the emojis to get his point across.
Thank you for reading 5 articles this month* Join now for unlimited access
Enjoy your first month for just £1 / $1 / €1
*Read 5 free articles per month without a subscription
Join now for unlimited access
Try first month for just £1 / $1 / €1
Jack Elton-Walters hails from the Isle of Wight, and would be quick to tell anyone that it's his favourite place to ride. He has covered a varied range of topics for Cycling Weekly, producing articles focusing on tech, professional racing as well as cycling culture. He moved on to work for Cyclist magazine in 2017.