Road World Championships 2021: men's elite individual time trial start list and times
The start times of riders taking part in the elite men's individual time trial at the 2021 UCI Road World Championships in Flanders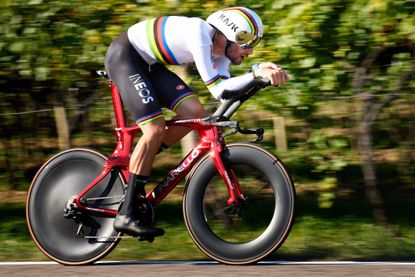 (Image credit: Getty)
The 2021 elite men's time trial at the World Championships features some big names and competition is likely to be tough at the top.
The men's individual time trial race takes place on Sunday, September 19 over a 43.3 kilometre route starting in Knokke-Heist and finishing in Bruges in the northwest Flanders region of Belgium.
Reigning time trial champion Fillipo Ganna (Italy) is due to take to the start line once again, as well as Belgian superstar Wout van Aert (Belgium) and Ethan Hayter (Great Britain), who will make his debut at the event.
Last year's bronze medalist, Stefan Küng (Switzerland) will also be riding, while Slovenian Tadej Pogačar will ride in the Road World Championship time trial for the first time, as he replaces Olympic time trial champion Primož Roglič.
The time trial will be broadcast on Eurosport 1 along with an uninterrupted stream on Eurosport Player and GCN Race Pass at 1.30pm.
You will also be able to watch BBC coverage on BBC2, BBC iPlayer and BBC Sport website and app from 1.30pm
>>UCI Road World Championships 2021 route: Profiles for the event in Flanders
Below is the start list and times for the men's individual time trial:
2021 Elite men's individual time trial start list: ones to watch - Central European Time (subtract one hour for BST)
14:55:00 - Daniel Bigham (Great Britain)
15:07:00 - Remco Evenepoel (Belgium)
15:44:30 - Ethan Hayter (Great Britain)
15:58:00 - Tadej Pogačar (Slovenia)
15:59:30 - Remi Cavagna (France)
16:01:00 - Kasper Asgreen (Denmark)
16:02:30 - Stefan Küng (Switzerland)
16:04:00 - Wout van Aert (Belgium)
16:05:30 - Filippo Ganna (Italy)
2021 Elite men's individual time trial start list and times: Central European Time (subtract one hour for BST)
14:40:00 - Christofer Jurado Lopez (Panama)
14:41:30 - Matteo Sobrero (Italy)
14:43:00 - Ali Jawaid (Pakistan)
14:44:30 - Akramjon Sunnatov (Uzbekistan)
14:46:00 - Venantas Lasinis (Lithuania)
14:47:30 - Dmitriy Gruzdev (Kazakhstan)
14:49:00 - Marcus Christie (Ireland)
14:50:30 - Hailemelekot Hailu (Ethiopia)
14:52:00 - Lotfi Tchambaz (Algeria)
14:53:30 - Stefan De Bod (South Africa)
14:55:00 - Daniel Bigham (Great Britain)
14:56:30 - Maximilian Walscheid (Germany)
14:58:00 - Brandon McNulty (United States Of America)
14:59:30 - Rafael Reis (Portugal)
15:01:00 - Jan Tratnik (Slovenia)
15:02:30 - Benjamin Thomas (France)
15:04:00 - Mikkel Bjerg (Denmark)
15:05:30 - Stefan Bissegger (Switzerland)
15:07:00 - Remco Evenepoel (Belgium)
15:08:30 - Edoardo Affini (Italy)
15:14:30 - Nazir Jaser (Syrian Arab Republic)
15:10:00 - Khalil Amjad (Pakistan)
15:11:30 - Christopher Symonds (Ghana)
15:13:00 - Andreas Miltiadis (Cyprus)
15:16:00 - Fadhel Alkhater (Qatar)
15:17:30 - Runar Orn Agustsson (Iceland)
15:19:00 - Muradjan Khalmuratov (Uzbekistan)
15:20:30 - Spas Gyurov (Bulgaria)
15:22:00 - Ognjen Ilic (Serbia)
15:23:30 - Sarawut Sirironnachai (Thailand)
15:25:00 - Barnabas Peak (Hungary)
15:26:30 - Mykhaylo Kononenko (Ukraine)
15:28:00 - Ronald Kuba (Slovakia)
15:29:30 - Daniil Fominykh (Kazakhstan)
15:31:00 - Ryan Mullen (Ireland)
15:32:30 - Felix Ritzinger (Austria)
15:34:00 - Franklin Archibold Castillo (Panama)
15:35:30 - Tsgabu Gebremaryam Grmay (Ethiopia)
15:37:00 - Ryan Gibbons (South Africa)
15:38:30 - Tom Scully (New Zealand)
15:40:00 - Petr Rikunov (Russia)
15:41:30 - Carlos Rodriguez (Spain)
15:43:00 - Jos Van Emden (Netherlands)
15:44:30 - Ethan Hayter (Great Britain)
15:46:00 - Josef Cerny (Czech Republic)
15:47:30 - Hugo Houle (Canada)
15:49:00 - Andreas Leknessund (Norway)
15:50:30 - Tony Martin (Germany)
15:52:00 - Lawson Craddock (United States Of America)
15:53:30 - Nelson Oliveira (Portugal)
15:55:00 - Rigoberto Úran (Colombia)
15:56:30 - Michał Kwiatkowski (Poland)
15:58:00 - Tadej Pogačar (Slovenia)
15:59:30 - Remi Cavagna (France)
16:01:00 - Kasper Asgreen (Denmark)
16:02:30 - Stefan Küng (Switzerland)
16:04:00 - Wout van Aert (Belgium)
16:05:30 - Filippo Ganna (Italy)
Thank you for reading 20 articles this month* Join now for unlimited access
Enjoy your first month for just £1 / $1 / €1
*Read 5 free articles per month without a subscription
Join now for unlimited access
Try first month for just £1 / $1 / €1