Imola Road World Championships 2020: men's individual time trial start list and timings
Confirmed list of riders and start times taking part in the elite men's individual time trial at the 2020 UCI Road World Championships at Imola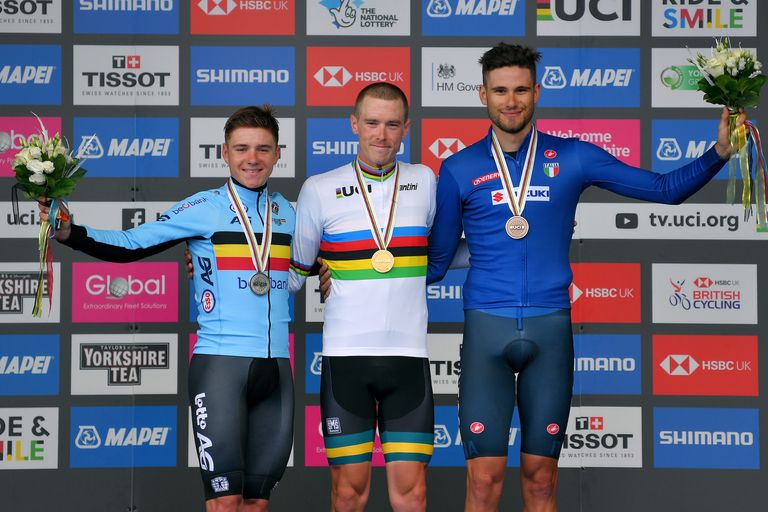 (Image credit: Getty Images)
The 2020 elite men's time trial at the World Championships features some big names and competition is likely to be tough at the top.
The men's race takes place over a lumpy 31.7 kilometre route starting and finishing at the Imola race track.
Reigning champion Rohan Dennis (Australia) is due to take to the start line once again, as well as Belgian superstar Wout van Aert (Belgium) and Geraint Thomas (Great Britain), who will make his debut at the event.
Last year's bronze medalist, Filippo Ganna (Italy) will also be riding as he looks to add the World title to his Italian one.
Remco Evenepoel, who got silver last year, isn't riding as he is still recovering from his serious crash earlier this season at Il Lombardia.
The race will be broadcast on Eurosport 1 along with an uninterrupted stream on Eurosport Player and GCN Race Pass at 13:25.
You will also be able to watch BBC coverage on BBC2 from 13:45.
>>UCI Road World Championships 2020: dates, route, where to watch and more
Below are the start times for all competitors. Times are in CEST, subtract one hour for UK time.
2020 Elite men's individual time trial start list and times: ones to watch
15-24.00 THOMAS Geraint (Great Britain)
15-45.00 DOWSETT Alex (Great Britain)
15-46.30 CAVAGNA Rémi (France)
15-48.00 VAN AERT Wout (Belgium)
15-51.00 DUMOULIN Tom (Netherlands)
15-52.30 GANNA Filippo (Italy)
15-54.00 DENNIS Rohan (Australia)
2020 Elite men's individual time trial start list and times: all riders
14-30.00 WAIS Ahmad (Syria)
14-31.30 FILITÁS Viktor (Hungary)
14-33.00 CATAFORD Alexander (Canada)
14-34.30 GRUZDEV Dmitriy (Kazakhstan)
14-36.00 STEPANOV Andrei (Russia)
14-37.30 WALSCHEID Max (Germany)
14-39.00 OTRUBA Jakub (Czech Republic)
14-40.30 RITZINGER Felix (Austria)
14-42.00 ROCHE Nicolas (Ireland)
14-43.30 BODNAR Maciej (Poland)
14-45.00 OLIVEIRA Ivo (Portugal)
14-46.30 KARALIOK Yauheni (Belarus)
14-48.00 MCNULTY Brandon (USA)
14-49.30 FISHER-BLACK Finn (New Zealand)
14-51.00 THOMAS Benjamin (France)
14-52.30 VAN EMDEN Jos (Netherlands)
14-54.00 AFFINI Edoardo (Italy)
14-55.30 DURBRIDGE Luke (Australia)
14-57.00 OYARZÚN Carlos (Chile)
14-58.30 ILIĆ Ognjen (Serbia)
15-00.00 GYUROV Spas (Bulgaria)
15-01.30 ÓMARSSON Ingvar (Iceland)
15-03.00 CASTILLO Ulises (Mexico)
15-04.30 TZORTZAKIS Polychronis (Greece)
15-06.00 ASADOV Elchin (Azerbaijan)
15-07.30 ŠIŠKEVIČIUS Evaldas (Lithuania)
15-09.00 PEÁK Barnabás (Hungary)
15-10.30 BJERG Mikkel (Denmark)
15-12.00 HOULE Hugo (Canada)
15-13.30 KONONENKO Mykhaylo (Ukraine)
15-15.00 KARPENKO Gleb (Estonia)
15-16.30 FOMINYKH Daniil (Kazakhstan)
15-18.00 CULLY Ján Andrej (Slovakia)
15-19.30 RIKUNOV Petr (Russia)
15-21.00 SÜTTERLIN Jasha (Germany)
15-22.30 ČERNÝ Josef (Czech Republic)
15-24.00 THOMAS Geraint (Great Britain)
15-25.30 BRÄNDLE Matthias (Austria)
15-27.00 MULLEN Ryan (Ireland)
15-28.30 GRADEK Kamil (Poland)
15-30.00 MARTÍNEZ Daniel (Colombia)
15-31.30 LEKNESSUND Andreas (Norway)
15-33.00 TRATNIK Jan (Slovenia)
15-34.30 LUDVIGSSON Tobias (Sweden)
15-36.00 BILBAO Pello (Spain)
15-37.30 CAMPENAERTS Victor (Belgium)
15-39.00 OLIVEIRA Nelson (Portugal)
15-40.30 ASGREEN Kasper (Denmark)
15-42.00 CRADDOCK Lawson (USA)
15-43.30 BEVIN Patrick (New Zealand)
15-45.00 DOWSETT Alex (Great Britain)
15-46.30 CAVAGNA Rémi (France)
15-48.00 VAN AERT Wout (Belgium)
15-49.30 KÜNG Stefan (Switzerland)
15-51.00 DUMOULIN Tom (Netherlands)
15-52.30 GANNA Filippo (Italy)
15-54.00 DENNIS Rohan (Australia)