Rapha-Condor continue with development focus in 2013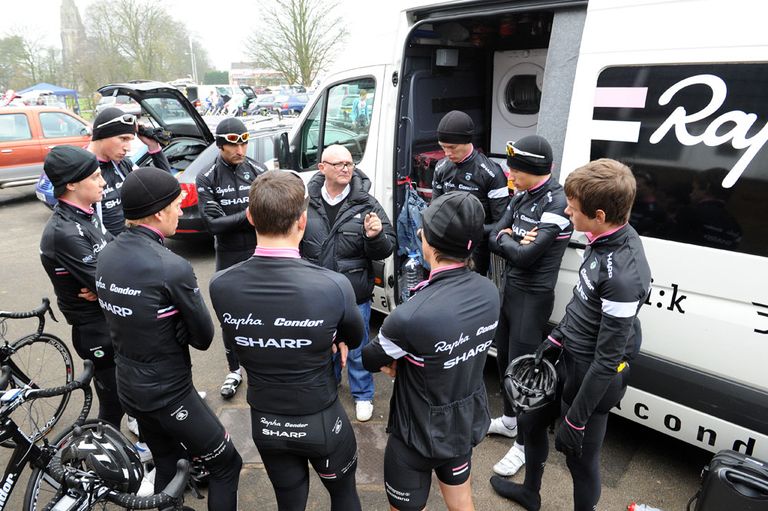 Dean Downing and Andy Tennant will be moving on from Rapha-Condor team in 2013 as manager John Herety continues to drive the team's aim of nurturing and developing young talent.
Tour of Britain King of the Mountains Kristian House will remain with the team along with Olympic gold medallist Ed Clancy, but the squad once again has an overwhelmingly youthful look to it.
First and second at the Junior Tour of Wales in 2012, Hugh Carthy and Will Stephenson have made the step up from the junior ranks and they will be joined by Elliott Porter and Irish rider Aaron Buggle.
"As we continue along the path towards being more and more of a development squad the balance between the number of older riders and younger ones will inevitably change," said Herety in a press release.
"Hugh and Will have both been on my radar for some time. Hugh in particular is a prime example of the kind of rider that we want in this development programme."
Downing, who moves on from Rapha after six years with the team, explained to Cycling Weekly that he is considering offers from a number of teams to remain as a full time domestic professional next year, and will once again be targeting the Tour Series and Premier Calendar races.
"It's an interesting time for me and it was a tough decision to move on from Rapha-Condor, I've had the best years of my career over the past six years there," he said.
Downing was hit by a number of injuries and illnesses in 2012, instances which he admits helped him broaden his horizons for the future. Last year he began a role as team and sponsor liaison with Hot Chillee, organisers of the London to Paris and the Alpine Challenge, which he will continue with in 2013.
"I was a bit more relaxed this year," he added. "There was less pressure for results with the development aims of the team and it opened my eyes to different opportunities."
"Dean has been an exemplary member of this team for a long time and he played an important part in helping the young guys find their feet in 2012," added Herety. "We all wish him the best for 2013."
The team will also announce a third and new title sponsor in the coming weeks, which CW understands will replace Sharp. The Japanese electronics manufacturer became a title sponsor of the Garmin squad earlier in 2012.
Rapha-Condor squad for 2013
Aaron Buggle
Hugh Carthy
Ed Clancy
Mike Cuming
Felix English
Luke Grivell-Mellor
Richard Handley
Kristian House
James McCallum
Elliot Porter
Will Stephenson
Related links
Rapha changes direction for 2013
Photo Gallery: Rapha-Condor-Sharp training camp, February 2012