Red, white, blue and green: Voeckler leads the way for Europcar in 2011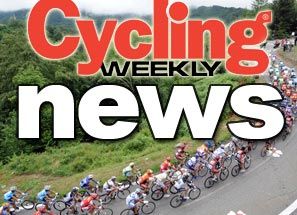 When previous main backer Bouygues Telecom announced their intention to pull the plug on their sponsorship of the squad at the end of 2010, team manager Jean-René Bernaudeau struggled to find a replacement.
Charges Pierrick Fedrigo and Nicolas Vogondy chose to jump ship - to Francaise des Jeux and Cofidis, respectively - but Thomas Voeckler decided to remain loyal, with his commitment eventually helping to pull in Europcar. Now, the team's new green jerseys will be easy to pick out in this season's peloton-sea of black and blue.
"I've only ever ridden for teams run by Jean-René, so even when he was struggling to find a new sponsor, I wanted to stick with him," said Voeckler at the team presentation.
With Fedrigo and Vogondy gone, the French national road champion says he's happy to lead the team together with 2010 Tour de France King of the Mountains winner Anthony Charteau, despite the responsibility that comes with that.
"But we are a team - it's not about one individual - and we have a lot of young riders on the team who have great futures ahead of them.
"Riders like Franck Bouyer helped me when I was starting out as a pro, and I hope that I can do the same with the younger guys on the team, even though I'm still only 31 myself," Voeckler laughed. "Hopefully I'm not going to start slowing down before about the age of 36, though."
Voeckler admitted that at this stage of his career, he knows the kind of races in which he's capable of performing.
"We don't have riders here on the team at this stage who can win the Tour de France overall, so we have to take our chances where we can. Saying that, at last year's Tour, who would have thought that Anthony would have such a great ride and win the King of the Mountains jersey, and that Pierrick and I would both win a stage? And those were mountain stages, remember, too. So we shouldn't limit ourselves, either."
Bernaudeau's new Europcar outfit may know as soon as the end of January whether they will receive one of the four wild-card spots allowing them to participate in this year's Tour, and as a French team with the reigning King of the Mountains jersey winner in Charteau, and a two-time stage winner and former yellow jersey holder in Voeckler, on the roster, they have a strong case for inclusion.
Of course, the French teams are always popular on home ground, but Voeckler's French champ's jersey helped garner extra attention from public and press alike on the roads of France last July, so a place in cycling's biggest race would motivate Voeckler to defend the French title in June even more.
"Having the French champion's jersey on your shoulders helps a lot. It's fantastic to have the support of the crowds on the roadside," Voeckler admitted. "After the yellow jersey, this is the jersey the French public love best."
Voeckler and Bernaudeau simply want another chance to entertain their public this summer, rather than just making up the numbers, robotically going through the motions of appeasing the sponsor.
"The sport is becoming more and more business-like," said Voeckler, "yet Jean-René has always kept his human values, bringing soul to this team. And that's why I'm still so happy to ride for him."
Thank you for reading 20 articles this month* Join now for unlimited access
Enjoy your first month for just £1 / $1 / €1
*Read 5 free articles per month without a subscription
Join now for unlimited access
Try first month for just £1 / $1 / €1