Sky extends partnership with British Cycling to 2016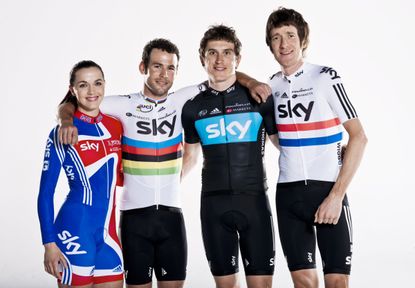 Digital satellite communications company Sky has extended it support of British Cycling for four more years, until 2016.
Sky's partnership with British Cycling reaches from 'playground to podium', from Sky Ride mass-participation events through to top-level competitive cycling on the road, track, mountain biking and BMX.
Ian Drake, CEO of British Cycling, said: "I'm delighted that Sky has committed to working with us for a further four-year period. The unique nature of our partnership with Sky has been a key factor in cycling's phenomenal success story, perfectly complementing the support we receive from UK Sport and Sport England."
Rather than focusing solely on the headline-grabbing WorldTour team that carries the Sky name, the partnership between BC and Sky has from the outset in 2008 aimed to encourage as many people as possible to get on a bike.
Originally, Sky wanted to get one million more people cycling regularly by 2013 - and the company says it is well on the way to achieving that with 700,000 people now cycling once or more a month as a result of the Sky Ride initiative.
"Being a world leading cycling nation isn't just about winning medals - it's also about inspiring everyone to get on a bike, from the playground right through to the podium," said Drake. "That's exactly what initiatives like Sky Ride have achieved and we're well on track to reaching our target of getting one million more people cycling by 2013."
The Great Britain and Sky trade teams have flourished during the first four years of the deal between Sky and BC. During that period, Great Britain has established itself as one of the foremost cycling nations, boasting world champions across all disciplines of cycling.
The new deal effectively takes Sky's support to the next Olympic Games. The exact financial terms of the partnership have not been disclosed.
Geraint Thomas, Mark Cavendish, Victoria Pendleton and Bradley Wiggins have all benefited from the partnership between Sky and British Cycling
Related links
December 2009: Team Sky - As it happens
February 2009: British pro team project: Sky's the limit
September 2008: Sky logo appears on GB jerseys
Thank you for reading 20 articles this month* Join now for unlimited access
Enjoy your first month for just £1 / $1 / €1
*Read 5 free articles per month without a subscription
Join now for unlimited access
Try first month for just £1 / $1 / €1