Team WNT-Rotor cuts British ties
The move comes amid allegations of poor treatment of riders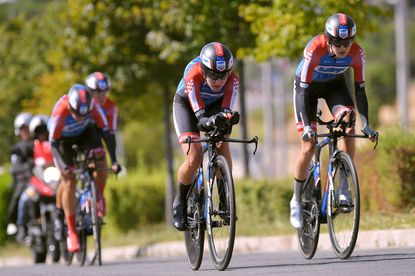 (Image credit: Getty Images)
This story originally appeared in Cycling Weekly's print edition.
Hot on the heels of the closure of Wiggle-High5, British women's cycling is set for another body blow with the re-registration of the WNT-Rotor team in Austria in 2019 as it seemingly severs all ties with its UK riders and staff.
The British team has actually been run from WNT's Austrian office since the end of 2017.
Last year, under the direction of Scot Graeme Herd, the team had a breakthrough season, with 13 Brits riding in its 16-woman squad.
This year's 10-woman roster contained only five British riders, three of whom have since left, leaving only former national time trial champion Hayley Simmonds and Natalie Grinczer.
>>UCI announces minimum pay for pro women riders in new WorldTeams division
Herd also left the team with no explanation in February.
In July WNT re-registered former rider and press officer Hannah Walker, though she is yet to race.
UCI Women's teams can be suspended if the number of riders from the country of registration falls below any other nationality.
CW has spoken to multiple sources close to the team who allege poor treatment of riders by the new management.
Team GB rider Mel Lowther believes she suffered injuries earlier in the season because the team did not apply measurements set by British Cycling to her bike, meaning her saddle was 2cm too low.
Some riders have been publicly reduced to tears, while communication is said to be so poor that riders sometimes learn they have new team-mates when they see squad lists for upcoming races.
We understand some British riders were offered the option to leave or face legal action over supposed contract breaches.
Not all riders were provided with training bikes, and others' machines were from a different manufacturer to their race bikes (bought in Orbeas), though they were not permitted to take race bikes home for a proper fitting.
WNT, a German machine tooling company, owns the team, employing riders directly.
The UK arm, based in Sheffield, established the team in 2016 and remains the registered office according to the UCI website.
However, late last year the service course moved to Reutte, the Austrian home of WNT's parent company, Certazit, and is managed entirely from there by Claude Sun, the company's European managing director of Cutting Tools, with press officer Hannah Walker the only British staffer.
As well as extending some current contracts, the team recently announced the signing of three top European riders, including Dutch sprinter and track world champion Kirsten Wild.
No Brits have been announced for 2019.
Iris Slappendel of the women riders' union, the Cyclists' Alliance, confirmed she has spoken to a number of the team's riders, but released no details.
The team did not respond to a request for comment.
Thank you for reading 20 articles this month* Join now for unlimited access
Enjoy your first month for just £1 / $1 / €1
*Read 5 free articles per month without a subscription
Join now for unlimited access
Try first month for just £1 / $1 / €1