This British firm has a higher bike theft recovery rate than the police - and they've only just begun
BackPedal offer 24/7 bike recovery with an 85 per cent success rate so far - and insurance if they don't manage it, too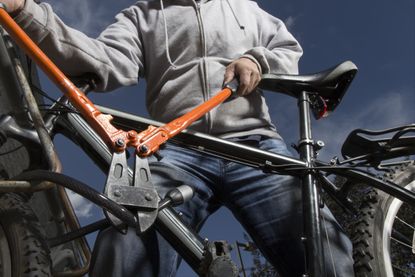 (Image credit: Getty Images)
It all started when James Dunn's girlfriend had her bike stolen during the pandemic: "She's a teacher, she used it to get to work, and she couldn't get another bike. The police couldn't do anything, the CCTV wasn't helpful, two guys came up on a moped, used an angle grinder, and took the bike.
"She ended up having to beg and borrow just to get to work. I was just finishing my old start up and looking for something to do. It blew my mind that there wasn't anything to be done about bike theft," explained Dunn - who went on to create a solution.
Bike theft is rife, and yet, it doesn't seem like much is being done about it. An increasingly overstretched policing service, combined with emboldened criminals, has resulted in a slew of horror stories. It is not a victimless crime; a bike could be someone's only means of transport, or it could be their prized possession, the most expensive thing they own.
An investigation by the Daily Telegraph last year found that in 87% of the 24,000 neighbourhoods that saw a reported bicycle theft in the last three years, not a single case was ever solved.
Step forward BackPedal, a company that specialises in theft protection for bikes and e-bikes across the UK. The tech startup uses GPS and recovery agents to get your bike back, and has allied with Sundays insurance to offer full bike cover.
"It's really quite simple," Dunn explained to Cycling Weekly. "Bikes get stolen, people want them back, and that's what we do."
"We use security professionals," he continued. "What we often do is co-ordinate our guys on the ground with the police. The police [are] a bit hit and miss, but we tend to get a lot more hits. We're doing this all the time, and are professionals, and we're not emotionally attached like the customer is. It's a bit less hassle for the police to deal with us than the victim.
"Add the fact that the guys are on the ground, they can provide all the information. We try to put it on a plate for the police, we can say the GPS tracker leads to this address, we can see it. Our job is to get GPS trackers installed, deploy people to look for the bike, and working on recovery, managing the police."
BackPedal is at the start of its existence as a company, so Dunn and his co-founder Richard White are learning as they go along, but so far, with over 40 thefts, they have recovered 85% of stolen bikes, at an average of under 18 hours. If they keep that up, they could solve the problem all together.
"A lot of bike theft is opportunistic," Dunn said. "We're starting to learn more and more about this, but one of the key things is being able to act quickly. We're a 24/7 service. If you can act quickly, it'll still be with the group... that have taken it. The further down the chain it gets, the more likely it is to be have been split or shifted abroad.
"We busted one house too late, because we hadn't been told about it straight away, and the house was full of [stolen] bikes. The police seized eight or nine but ours had already been stripped down and sold by that point. Getting to them quickly is really important. Before the [thieves] have moved it to someone more professional, or they've wrecked it. Especially with an e-bike, they're going to ride it until the battery goes dead, and then dump it.
"Some of them get hidden or abandoned, and we can get those pretty routinely. After that, it'll either still be with the thieves, in which case we might approach them. Or it's on private property. We'll weigh up the situation. If it's in a garden or something, we can actually access it, because that's a civil offence rather than a criminal offence."
While there has been a lot of success so far - you just have to look at the company's Instagram to see this - they are still trying to get better at covering all bikes. While a lot of opportunistic theft might be combatted easily, more expensive bikes might prove more difficult to recover; speed is of the essence.
"We're providing a balance between what we can do and what we need to get the police to do," Dunn said. "What is skewing our stats at the moment is that our biggest customer base is delivery riders. We suspect those thefts are a lot more opportunistic. Whereas, if you've got a £10,000 custom Pinarello or something, they're much more likely to have been stolen to order by professional gangs. We don't have enough experience or numbers to speak to that yet."
GPS trackers are essential for the service, which starts from £8.99 a month, including insurance; the trackers cost more to install, from £149, either at a mechanic or at home, and cover only begins once they're in place.
"We deploy multiple trackers onto bikes now," Dunn explained. "One will typically be a GPS and one will be more like a close range beacon or scanner. I'm not worried about not being fast enough to catch the professional thieves, I'm worried about it going inside a building where the GPS can't go out. That's why we're adding in extra trackers now, which can penetrate buildings."
It is sometimes a lot more simple than you might think, Dunn pointed out: "Sometimes you can just knock on a door and ask about the stolen bike. If the thieves realise that something it hot and that you've got resources to make their life difficult, they might as well get rid of it."
Dunn, and BackPedal, have a grand plan of helping make bike theft a much less attractive avenue for petty criminals; I think we all know that that is necessary.
"It's still early days," he said. "There's nothing being done really about this at the moment. Hopefully we can help make stealing bikes less attractive, and encourage GPS trackers, and then maybe down the line there's way less bike theft. At the moment there's a story every other day about some teens using an angle grinder in public. We want to stop that."
Thank you for reading 20 articles this month* Join now for unlimited access
Enjoy your first month for just £1 / $1 / €1
*Read 5 free articles per month without a subscription
Join now for unlimited access
Try first month for just £1 / $1 / €1