Tweets of the week: Thibaut Pinot's leaving party, and the Ineos boys go out out
Some riders are already well onto their off-season, while some are racing on, lucky them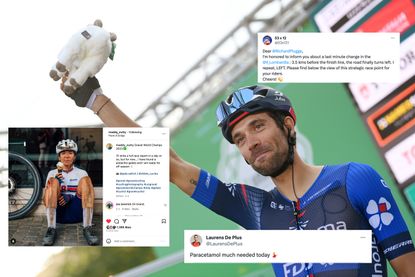 (Image credit: Getty Images)
When I eventually retire, potentially well into my 70s, so this could be 2070 really, I hope that my final day at work is as raucous as Thibaut Pinot's. The man from the Haute-Saône was greeted like the hero on a valedictory lap that he was, but how the whole thing was for the reasonably shy and introverted Groupama-FDJ rider, that's another question.
As he put it last week, in one of his final interviews as a professional bike rider: "I think I am more stressed to see them [his fans] than they are to meet me."
However, it did look a lot of fun, watching the party at Il Lombardia on social media. Imagine, if on your last day at the office, at the shop, in the warehouse or whatever, hundreds of people turned up with flares to scream you on and just pat you on the back. Well, that's what I'll dream of anyway. In reality, if the world still exists in forty years time, I'll be writing one last thing and then logging off, simple. Being a professional bike rider is weird, man.
Pinot is almost certainly happier now he's out of the limelight, and that's no bad thing - just more time to spend on his farm, with the goats.
Elsewhere in the world of cycling social media, there's evidence of riders really getting into their off-season, which is what we like to see here at Tweets of the Week, you really need some work/life balance. There's also some excellent transfer announcement posts, and Florian Vermeersch has a much more impressive contact book than I do.
1. Thibaut Pinot's leaving gift? Well, a goat, of course
2. Sadly, this dastardly fan's plan did not work, with Thibaut Pinot finishing 37th, and the best Jumbo-Visma rider, Primož Roglič, coming 3rd. Still, this is fun. More fun in cycling, please
3. Now we get into the meat of the matter, imagine cycling through here, imagine how chaotic and fun this would be. Us mortals will never experience anything like this, sadly, but it's nice to dream
4. Christine Majerus, off-season ready, asks if anyone is afraid of her in sliders. I mean, I'm not sure I'd want to mess with her. It looks idyllic, anyway.
5. Two things on Magnus Cort's off-season snaps. Firstly, how lovely it all looks, genuinely, I think I might want his life? Secondly, the man is the most Scandinavian man I've ever seen. The moustache. The hair. The roll neck jumpers. The jacket. Ah man.
6. If you're going to ride the Gravel World Championships, you definitely deserve a gelato. This picture is what everyone loves about cycling, right?
7. If I had Tadej Pogačar's phone number, I would also be boasting about it. However, the most interesting answer here is Florian Vermeersch, who has the Belgian prime minister's number. What! Why? Is Florian going to go from local councillor to minister soon?
8. Squeeze every last drop of content out of Roglič before he goes, that's the plan, huh? We need to talk about how the Slovenian's lack of eloquence has gone from annoying to a meme, really
9. The Ineos lads are done with their year and are ready to go out out out. I'm not sure I'd fit in, I don't often wear a shirt or drink wine, but I'd love to know what they chatted about
10. Did you know Rigoberto Uran has well over a million followers on Instagram? Well you do now. Here he is with the champions of Ecuador, Colombia, and Ireland. Simple
11. Congratulations to Ellen van Dijk and Benjamin on the birth of their baby boy. I wonder if he will ever set an Hour Record?
12. I haven't enjoyed all of Lidl-Trek's t-shirt announcements this transfer season, but this Tim Declercq one is pretty special. I want to see the Belgian in an actual machine at some point over the next year, please
13. Is this good? I don't think so particularly, but it certainly caught everyone's eye. Congrats to Caleb/Crocodile Ewan on the new deal
14. So many things to dislike about the idea of being a professional cyclists, but being trapped in an airless lift with 10 other men in lycra would probably be up there
15. ICYMI the women's Giro next year will be called the Giro d'Italia Women. For some reason.
16. Romain Bardet looks fine, but these looks actually suit Charlotte Kool? Maybe she will find some outfit inspiration from this
17. And finally.. We have found exclusive footage of Ineos Grenadiers' plan to get back on top in 2024
18. Oh, farewell Thibaut
Thank you for reading 20 articles this month* Join now for unlimited access
Enjoy your first month for just £1 / $1 / €1
*Read 5 free articles per month without a subscription
Join now for unlimited access
Try first month for just £1 / $1 / €1