'Unprecedented' television audiences revealed for cycling Super Worlds
Fans around the world watched more than 200 million hours in August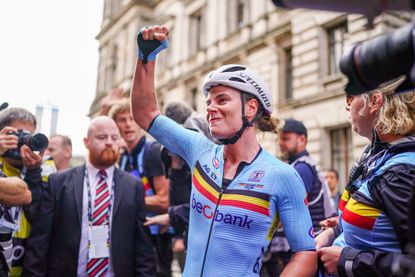 (Image credit: Thomas Maheux/SWpix.com)
The 2023 Cycling World Championships, commonly referred to as the Super Worlds, witnessed a 75 per cent increase in hours watched on television, according to the UCI.
The event, anchored in Glasgow, brought together 8,000 athletes from across 13 different disciplines. It marked the first time ever the UCI has combined the various World Championships, which it will next do in 2027.
In a press release shared on Tuesday, the UCI used the words "unprecedented", "spectacular" and "exceptional" to describe the television and digital audience figures recorded for this year's inaugural Super Worlds.
"The different disciplines benefited greatly from having the various UCI World Championships combined into a single event," the statement read.
"Globally, more than 200 million hours were watched on television over the 11 days of competition, an increase of 75 per cent compared to the average for a typical year when the various UCI World Championships are organised separately."
The UCI's figures, based on an average of the individual World Championships held in Europe from 2017-2022, showed all key disciplines enjoyed an increase in audience viewing time.
Road cycling witnessed a 22.2 per cent rise in hours watched, track 162 per cent and mountain bike 200 per cent. The most impressive increase came in BMX, with the racing and freestyle disciplines recording 380 per cent more viewing time.
Events were broadcast in 130 countries, with the largest audience coming in France, where 1.8million viewers watched the elite men's road race on France Télévisions. One million viewers tuned into the women's event on the same channel.
The two races were won by Mathieu van der Poel (Netherlands) and Lotte Kopecky (Belgium) respectively.
"These exceptional television audience figures can be explained by the unprecedented scale of this inaugural event and by the growing popularity of the various cycling disciplines," the UCI statement read.
The governing body also praised television broadcasters, particularly Eurosport, for their "very high-quality production and distribution".
UCI president David Lappartient said: "The TV figures show that the public massively followed the UCI Cycling World Championships competitions, and that events and disciplines that do not normally benefit from such a high level of TV and media coverage benefited greatly from the increased exposure that will boost their popularity and development at international level."
According to a report in The Scotsman earlier this month, the Glasgow World Championships were £8 million over budget, costing a total of £60 million.
Thank you for reading 20 articles this month* Join now for unlimited access
Enjoy your first month for just £1 / $1 / €1
*Read 5 free articles per month without a subscription
Join now for unlimited access
Try first month for just £1 / $1 / €1