Velosure-Giordana racing team for 2014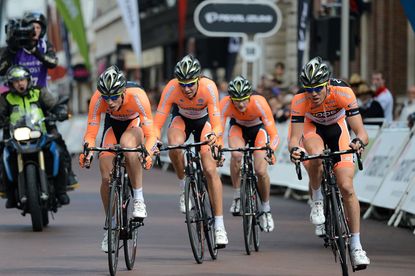 Cycle insurance company Velosure have provided the financial backing for the Velosure-Giordana cycling team for 2014. The squad is effectively the new name for the Node4-Giordana team owned by Yellow Limited.
"Velosure are delighted to partner with Yellow in this exciting initiative for 2014," said the comapny's Paul Walker. "Here at Velosure, we are keen to support all aspects of cycling, particularly young talented cyclists early in their career.
"We reached agreement with Phil [Griffiths] and Yellow based on their excellent track record for supporting cycling over the years, the fantastic quality of their product, and because of our shared philosophy in quality of service and reliability."
The squad is aiming to compete in over 90 events during the 2014 season and will be managed by Malcolm Elliott and Bill Nickson.
The squad will wear bright orange kit and ride Pinarello bicycles equipped with Campagnolo components.
Velosure-Giordana 2014
Marcin Bialoblocki
Tom Bustard
Matthew Cronshaw
Lee Davis
Nathan Edmondson
James Gullen
George Harper
Richard Hepworth
Steve Lampier
Andrew Magnier
Bradley Morgan
James Moss
Rob Partridge
Roman Van Uden
Thank you for reading 5 articles this month* Join now for unlimited access
Enjoy your first month for just £1 / $1 / €1
*Read 5 free articles per month without a subscription
Join now for unlimited access
Try first month for just £1 / $1 / €1