Will a pro team be riding Enve bikes in 2024?: Tech of the month November
Shockwaves travel through the industry as WiggleCRC seeks a buyer, Lapierre exits the World Tour and will Enve be bike sponsor to Team Total Energies?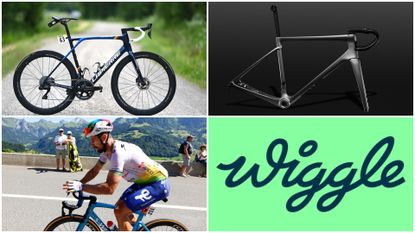 (Image credit: Getty Images / Dario Belingheri / Joan Cros Garcia - Corbis)
It's a turbulent time across the bike industry right now. Any one of the market shocks from the last few years would have been enough of a challenge in itself. The combination of quite so many in such a short period has had predictably devastating results.
From Moore Large to Isla Bikes, ProBikeKit to All City Cycles - and many others besides - so many brands have ceased to trade in the last year. The latest juggernaut to hit financial struggles is WiggleCRC; having entered administration, the retailer has laid-off staff as it seeks a buyer.
The tumult reaches outside the world of retail, with Lapierre having announced the end to its 22 year partnership with World Tour Team Groupama-FDJ. But it's not all doom and gloom: there is some exciting speculation that with Peter Sagan having now retired - and Specialized's sponsorship of Total Energies following suit - Enve might be about to enter the pro peloton as a fully-fledged bike sponsor.
There's a lot to discuss, so let's jump straight in!
What next for Wiggle?
You can catch up with the latest on the situation over at Wiggle over here. To briefly summarise, after the €150 million financing package Wiggle was expecting to receive from its parent company Signa Holdings was pulled, the brand was forced to enter administration and is now up for sale.
To be clear, Wiggle is continuing to trade and you can still buy from them as before - indeed, they have a lot of stock which they are very keen to shift! Still, it would be prudent to use a credit card for any purchases between £100 and £30,000, as then your credit company is liable for your receipt of the goods, offering you that bit more protection.
Now we enter speculation mode. Mike Ashely, the chief executive of Frasers Group, the parent company of Sports Direct has been reported as mulling a takeover of Wiggle. This would greatly expand the cycling portfolio of Frasers Group, which already owns Evans Cycles, following a takeover of the British bike shop chain in 2018.
Although Evans does have a foot in the eCommerce door, its strength really lies in its bricks-and-mortar stores across the country. Wiggle, on the other hand, although an online juggernaut, has the same weaknesses that all online platforms share in after-sales care.
The potential efficiencies of combining the two could be quite incredible. Imagine being able to pick up a fully-built Vitus bike directly from a store or taking it back for a service. You could try on dhb kit in-store and find the right size for you. Going the other way, with Evans Cycles being a purveyor of Bromptons, those would have an even wider reach with Wiggle's online presence (as if they needed it!)
It's an interesting proposition to consider (potentially even more so for Mike Ashely himself).
Lapierre and Team Groupama FDJ part ways
It's a partnership which lasted 22 years, but as of December 31, 2023, Lapierre's sponsorship of Team Groupama FDJ will have officially ended. The split appears amicable, with both parties expressing sadness for this end to an era. Lapierre must make its 'strategic choices', and Groupama FDJ respects that.
This leaves open the question of what bike sponsor Groupama FDJ will partner with next? Could Look stretch to a second team? The same question goes for Van Rysel. In the current context of Wiggle's administration, for Vitus to enter the World Tour is more outlandish still.
What about further afield? One brand for which it seems crazy that they're not currently sponsoring a World Tour team is Orbea. The Basque brand's headquarters are less than 100km from the French border, and in terms of heritage, they are the second oldest bike manufacturer still in business today - it's only Bianchi which edges them out.
Delightful though that may be, the rumour mill is pointing more strongly in the direction of Wilier - currently sponsors to Astana-Qazaqstan Team and responsible for one of the most stunning colourways in the World Tour. The heritage and location boxes are ticked pretty well in any case: Wilier was established in 1906 and with its Italian headquarters less than 500km from the French border, the ride could make a fun weekender.
Enve bikes in the pro peloton?
With Peter Sagan retiring from professional cycling, so too is Specialized's sponsorship of Team Total Energies. It really is a testament to Sagan as an icon that Specialized followed where he went - but now a question mark is left in his wake. Who will Total Energies secure as a bike sponsor?
As ever, the rumour mill is whirring - and the suggestion is that Enve could be stepping in - not only as a supplier of wheels and finishing kit, but as a bike sponsor in its own right.
This would be a very interesting development since Enve's launch of the Custom Road back in 2021. That has since morphed into the Melee, a lightweight aero road bike, not dissimilar in form - and intended function - as the Specialized SL8 and the Colnago V4Rs.
Be that as it may, Enve doesn't currently have a time trial bike in its roster, leaving room for further speculation as to the approach the brand might take. Will it force through the development of a TT bike just for Total Energies? Would it be able to compress the development cycle that tightly - and would it in any way justify the cost?
Or would a deal be reached wherein another bike brand would provide the framesets for the time trials, and Enve would content itself with only the road sponsorship? There is precedent for arrangements like this, with Tom Pidcock memorably winning the Tokyo Olympic Mountain Bike race on a BMC Fourstroke, with Pinarello not producing a mountain bike at that point.
It's an interesting proposition in all respects and definitely a space to watch.
Thank you for reading 20 articles this month* Join now for unlimited access
Enjoy your first month for just £1 / $1 / €1
*Read 5 free articles per month without a subscription
Join now for unlimited access
Try first month for just £1 / $1 / €1