This is what Bear Grylls's dream bike would look like, up close with Pogačar's Colnago and other tech stories of the week...
From adventure-ready folding bikes to top-end racers and new wheels from Fulcrum, here's our picks of this week in tech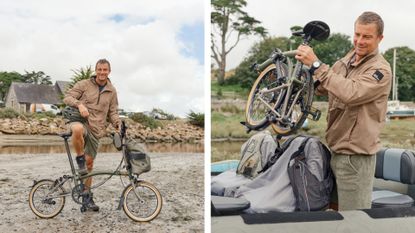 (Image credit: Brompton)
Get The Leadout Newsletter
The latest race content, interviews, features, reviews and expert buying guides, direct to your inbox!
Thank you for signing up to The Pick. You will receive a verification email shortly.
There was a problem. Please refresh the page and try again.
It's not every day that you get a chance to get up close and personal with a Tour de France champ's bike. But that's exactly what happen happened at this week's Saddleback event, where the distributor had Tadej Pogačar's Colnago on show...
No less famous but likely a little slower on the climbs, the UK's favourite adventurer Bear Grylls has collaborated with folding bike gurus Brompton and the results are pretty cool to say the least.
We've also rounded up a few of this week's standout releases included custom painted gravel bikes from Ribble and new colourways for the Pinarello Dogma F.
Pogačar's Colnago V4RS from the Tour de France
We were down at Saddleback's House Show earlier this week - the UK distributor for brands such as Castelli, Enve, Moots, Chris King and various other boutique and lust-worthy brands.
Amidst the profusion of carbon and titanium, it turned out Saddleback had managed to get a hold of one of Tadej Pogačar's Colnago V4RS's from this year's Tour de France - resplendent with Carbon-Ti chainrings and disc brake rotors. How fitting.
It was evidently a frameset which has seen heavy use, judging by the scuff marks and paint chips around the front and rear drop outs.
There's lots of interesting details, from the position of the lever hoods - titled inwards, yes, but the right much more so than the left. Although Pogačar got the all-clear for training with full load in June, after fracturing his left wrist in a crash at Liège-Bastogne-Liège in April, there was still an imbalance there by the time of the Tour de France in July.
3D printed parts feature in the cockpit, including the bike computer mount and the headset spacer between the stem and the top tube - allowing for a cleaner transition from the one-piece handlebars.
A K-Edge chain catcher is tucked between the crankset and the frame, providing an extra layer of defence again any drops. The rolling stock are the Enve SES 6.7 60mm deep aero wheels, shod with Continental GP5000 S TR tubeless tires.
Bear Grylls teams up with Brompton
While Brompton bikes are commonly associated with city dwellers navigating busy streets while dressed in a business suit, with only a pair of trouser clips for protection, they do have a more intrepid side.
The famous folding bike has been ridden around the world and used by research scientists at the South Pole. Which makes the British brand's partnership with renowned adventure Bear Grylls a little more harmonious than it might at first seem.
Better known for scaling mountains, Grylls is an avid cyclist nonetheless. And the Brompton x Bear Grylls C Line Explore and special edition backpack and pouch are designed with his travels, both big and small, in mind.
The 6-speed C Line's colour palette of moss green, mushroom grey and adventure orange conjures up an old Land Rover Defender. The component choices are equally practical, from the Brooks all weather saddle to the durable Schwalbe Marathon Racer tires. The piste de resistance however is the colour-matched waterproof 17-litre backpack and 1-litre pouch that fit to the bike and can also be bought separately.
"The adventure versatility of the Brompton is what makes it so unique. These bikes are a fast, versatile companion that opens up a world of adventure - even if you're in a city." says Grylls, who lives on a houseboat in London when he's not travelling the world. "Compact yet resilient, the Brompton BG allows me to navigate the concrete jungles with the same spirit of adventure as any other jungle. I love it!"
If the feeling is mutual, the Bear Grylls Brompton is available now for £1,895.
Ribble's custom colour Stone Collection to debut at Gravel Worlds
Inspired by the natural world, Ribble's Stone Collection features three hand painted custom colour finishes for its gravel bike range - Marble White, Granite Grey and Slate Black.
Given that gravel riding encompasses such a wide range of terrain, the choice of three different effects seems apt. It's also an opportunity to highlight Ribble's recently upgraded in-house paint facility. "Each hand painted bespoke bike is a unique work of art - no two paint finishes will ever be the same," says Ribble's Head of Product, Jaime Burrow. "Our CustomColour option allows our customers incredible levels of personalisation."
The collection will be used by all three Ribble Collective riders selected to compete for Team GB at the upcoming Gravel Worlds in Italy, Maddy Nutt, Mikey Mottram and Metheven Bond. And while the team will be riding Carbon Gravel SLs in Veneto, the three Stone Collection finishes are available across the UK brand's complete range of carbon, aluminium, steel and electric gravel bikes.
To celebrate the release Ribble has also created a 'hero' build - a Gravel SL in Marble White, with a Shimano GRX Di2 groupset, a pair of Zipp 303 S wheels and Level 5 integrated gravel bars, available for £4,499.
Pinarello Dogma F gets a makeover
It's fair to say that the Pinarello Dogma F is one of the more recognisable road bikes, thanks to the signature curves and the asymmetrical frame design. And if that wasn't enough the Italian marque, who supply bikes to the likes of the Ineos Grenadiers, have added a new colour range for its flagship bike.
The nine colours are divided into three styles - Nebula, Sonic and Speedster. Nebula features a tonal fade on a matt black base; Sonic reinterprets the brand's faded graphics and is available in three tones; and Speedster is a take on the classic Pinarello two-colour design and is again offered in three tones.
Fulcrum Wind wheels get higher and wider
The move to wider tires on the road, for improved comfort and rolling resistance, has seen a slew of new wheels hit the market in response, with their dimensions adjusted accordingly. The latest to do so are Fulcrum's Wind wheels.
The updated Wind rims are both higher and wider than the outgoing model. The 40mm and 55mm deep versions have been replaced with 42mm and 57mm rims, while the internal rim width has been increased to 23mm to better support the wider tires. The nose of the rim has also been widened, which Fulcrum says improves both handling and aerodynamics.
Despite these increases the new Wind wheels are lighter than the last iteration. Fulcrum has used its Speed wheelset as the blueprint, using the same FF80 mix of carbon fibers. The result sees the Wind 42 drop to 1,510 grams for the pair, and the Wind 57mm to 1,585 grams. Both are approximately 100 grams lighter.
Other noteworthy details include the hole free rim channel, which does away with the need for tubeless tape, and the choice to stick with hooked rims, which should make the Wind compatible with most tires. As for suitable tire widths, Fulcrum says that anything from 25mm to 45mm should be good. Given this broad spectrum the Wind sounds like a viable gravel race option, too.
The Fulcrum Wind 42 and 57 wheels retail from $1,1614 / £1,249.
Thank you for reading 20 articles this month* Join now for unlimited access
Enjoy your first month for just £1 / $1 / €1
*Read 5 free articles per month without a subscription
Join now for unlimited access
Try first month for just £1 / $1 / €1