Tech of the month for May: a new Gore Shakedry jacket, a flashy gilet, the Cube Agree - and more 100% Sagan sunnies
Here's the latest tech that has taken our fancy this month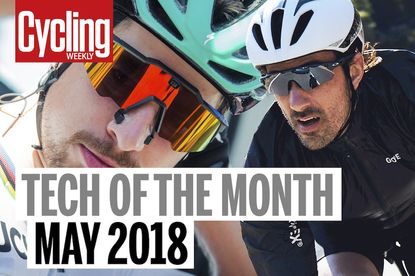 This month we've got the latest Gore Shakedry jacket, the Metier Beacon gilet and Cube's racy Agree endurance bike. And it wouldn't be Tech of the Month without a new pair of Peter Sagan's 100% sunglasses.
Gore Shakedry Stretch C7 jacket
Ollie's been off to the launch of the Gore Shakedry Stretch jacket, rubbing shoulders with Fabian Cancellara, who's now a Gore Ambassador.
Gore has added waterproof fabric stretch panels behind the sleeves to improve fit and make getting the jacket on and off that bit easier. The cuffs are more stretchy too. The Shakedry C7 is still thin and light though – and it still shakes dry.
100% Speedcraft Air sunglasses
For £300, 100%'s Speedcraft Air gives you a pair of magnets hanging off the bottom of the nosepiece. You apply a magnetic strip to each side of your nose and the magnets stick to these. Then you use a dial on the bridge to adjust how much your nostrils are distended.
It obviously works for Sagan, so why not for us?
You get 10 nose strips in the pack and can buy another 10 for $15. There's a clear lens as well as the tinted one too.
Metier Beacon gilet
The secret weapon of the Metier Beacon gilet is an array of LEDs built into the rear and another set on the front of the shoulders. They're powered by a battery in a pocket in the jacket. Charge time is 3 hours and run time is up to 72 hours, giving you plenty of riding time.
Although it's black, the Beacon gilet also has reflective stripes on the upper back. Take out the battery pack and the gilet is machine washable too.
Cube C:62 Agree SL
Although it's an endurance bike, the Cube Agree is race inspired. So the head tube is a little longer than the brand's race bikes, but still gives quite a low ride position. The bike feels more edgy and racy than many endurance machines and comes with aero features.
Cube kits the Agree SL out with Newmen bars, stem, seatpost and saddle, which are quality items. The C:62 Agree SL comes with Ultegra Di2 and Fulcrum Race 44 wheels for a very competitive £3000.
Thank you for reading 5 articles this month* Join now for unlimited access
Enjoy your first month for just £1 / $1 / €1
*Read 5 free articles per month without a subscription
Join now for unlimited access
Try first month for just £1 / $1 / €1