Pro bikes: Peter Sagan's beautiful Specialized S-Works Venge (video)
The world champ's stunning S-Works Venge in his new colourway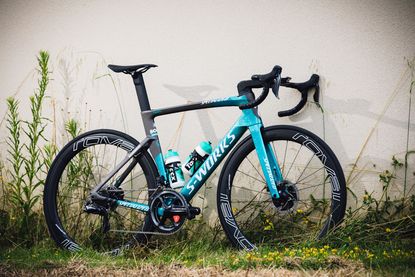 A world champion needs a bike worthy of that title, and Peter Sagan's Specialized S-Works Venge certainly lives up to the status. Only yesterday the brand announced the new Sagan colour way, but we were lucky enough to get up close and personal the brand new aero bike.
If anything, that new colourway looks even better in real life, and the highlight has got to be the fade from grey to blue along the top tube. Up front, the bike's paint job really sparkles in the sunlight and the glitter continues down the forks and downtube. There's then a clear division where the bike's grey starts, and it's a great way to balance the colours up front.
The slightly esoteric sprinter also has the words 'we'll see' printed on the underside of the bottom bracket. It's an interesting addition even if we don't really know what it means.
We measured the bike and can confirm that Sagan rides a 56cm frame with his saddle at 76cm, measured straight down the seat tube. Up front, his brand new Aerofly 2 bars are 42cm wide and he's running an enormous 140mm stem. However, because of the forward sweep of the bars his reach will be extended even further.
The new Specialized S-Works Venge is disc brake and electronic gearing specific, and as a result Sagan is running Shimano's disc brake and Di2 Dura-Ace groupset, with 140mm rotors. In his bid to secure his sixth green jersey he's placed his sprint shifters neatly on the drops. The Di2 junction box is tidily stored in the back of the bike's seat post.
According to Specialized, this is the most convenient place for the mechanics when they're leaning out of the team car window.
More specifically, he's running a mighty 54/42 chainset and an 11-28 cassette on the rear. Smuggled neatly inside the chainrings is the Shimano version of Specialized's power meter.
Interestingly, he and the Bora-Hansgrohe team have opted to use Roval's CLX 50 disc wheelset over the CLX 64mm wheels that will ship with the full build bikes. There's a couple of potential reasons for the change. The 50mm wheels are lighter and he might prefer the faster accelerations of the shallower wheels or he's potentially worried about cross winds.
Alongside the Venge, Specialized and Sagan have also released a range of accessories in the new Sagan colours. This includes the Specialized Prevail helmet, the S-Works 7 shoes as well as the Tarmac SL 6 frame and bike. Here at the Tour we also managed to spot a Specialized Roubaix in the same colours.
Thank you for reading 20 articles this month* Join now for unlimited access
Enjoy your first month for just £1 / $1 / €1
*Read 5 free articles per month without a subscription
Join now for unlimited access
Try first month for just £1 / $1 / €1