Zwift unveils its biggest cycling esports competition after losing out on hosting the World Champs
The Zwift Games will consist of three races for men and women: the Sprint, Epic and Hill championships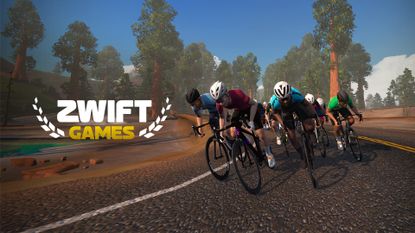 (Image credit: Future)
In the summer of this year, the virtual racing platform Zwift expressed its disappointment in losing the hosting duties of the Esports World Championships to competitor MyWhoosh. But now Zwift is back with a new event called the Zwift Games, with an aim to host the "largest cycling esports event ever held".
The Zwift Games are open to all riders, so everyone has the chance to qualify for the Zwift Games Elite Finals and be crowned overall Zwift Games Champion.
The competition will consist of three races: the Sprint, Epic and Hill championships.
Cycling Weekly asked Zwift's PR Director, Chris Snook, whether this event was previously planned - or if it was created after the platform lost out on hosting the World Championships.
Snook responded: "It is fair to say that this is the new pinnacle event in our cycling esports calendar. We remain committed to furthering cycling esports and this new format allows us to test new formats and races in a way that we hope will be appealing to a variety of riders.
"Elite cycling esports were born out of the community, so we also wanted to ensure the competition was accessible to anyone - which is why we have included an open pathway and community events which can be enjoyed by all."
Qualification races are planned to take place in late February 2024, with the Zwift Games Elite Finals to be held over the first two weeks of March 2024.
Both men's and women's Champions will be crowned across the three medal disciplines, as well as overall male and female champions.
Race distances will be equal for men and women - as will the prize money. Zwift says that the Zwift Games will be its biggest-ever prize purse, with the exact amount being shared in December.
"Zwifters interested in participating in the Games without vying for the overall crown of Zwift Games Champion world title can enter community events linked to each Championship," Zwift says. "Such an open competition promises to make the Zwift Games the most democratic cycling championship ever held."
Here are some more details on each of the championship races:
The Sprint Championship: "This race is built with the best elements of the Zwift Battle Royale pioneered for the 2023 UCI Cycling Esports World Championships," Zwift explains. Racers will tackle several events back-to-back on a variety of courses, including some that are new to Zwift. Qualifiers will be open to all Zwift riders with the top finishers progressing to the finals.
The Epic Championship: Zwift says that this race will use Watopia's new Coastal Causeway and a new route, and will be "at least 60km long". There will be an Epic community event taking place at the same time as the championship race, and any Zwifter can participate in either event without a qualifier. Zwift reckons this may end up being the world's largest-ever cycling esports event.
The Hill Climb Championship: It'll be a battle on the 21 hairpin turns of the Alpe du Zwift to find out who is the best Cycling Esports climber. If you're interested in participating in a group climb, but not looking to race you can join in the accompanying community challenge, which will also feature the Alpe and other iconic Zwift climbs.
The exact dates, formats and prize pot distributions will be shared in December.
The indoor training app for cycling also recently released the Zwift Hub One, a first-of-its-kind smart trainer that uses a single sprocket instead of a cassette, enabling 8-12 speed bikes to easily partake in any of Zwift's worlds and routes.
This year Black Friday is running from November 24th - 27th. We've rounded up all the best Black Friday bike deals we've found in our main hub page. With deals spanning components, tech and riding kit, you're guaranteed to find a bargain.
Thank you for reading 20 articles this month* Join now for unlimited access
Enjoy your first month for just £1 / $1 / €1
*Read 5 free articles per month without a subscription
Join now for unlimited access
Try first month for just £1 / $1 / €1