A love letter to my Castelli Gabba jacket
The Gabba is the holy grail of cycling kit. That's why I have three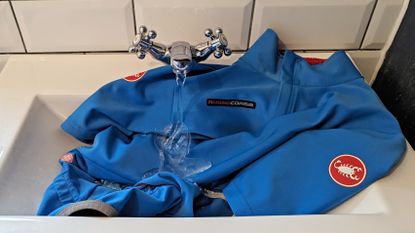 (Image credit: Future/Vern Pitt)
This article is part of a series called 'A love letter to…', where Cycling Weekly writers pour praise on their favourite cycling items and share the personal connection they have with them.
The below content is unfiltered, authentic and has not been paid for.
"Some of them have iron cuirasses [body armour], chain-wrought, but others are satisfied with the armour which Nature has given them and go into battle naked," wrote ancient Greek historian Diodorus Siculus of the Celts invention of chainmail armour.
Bike racers were never in need of armour from their foes, but they have always sought protection from the elements. In this respect it was not the Celts but the Italians that came to our rescue. So profound was Castelli's invention of the Gabba jacket that I can even recall where I first encountered it in the wild.
Threat hung in the air that November morning. It was one of those days where the view out the window didn't match the sensation on my skin as I surveyed the sky from my back doorstep. The temperature was mild, but overhead and underfoot were the tell-tale warning signs of rain to come.
I hate those mornings. The kit conundrum ones. Days when your pockets become stuffed with gloves, jackets or gilets, most of which you know you'll never use but don't want to be stranded two hours from home without in a downpour.
Half an hour later my clubmate rolls up, mercifully unladen, in a short sleeve jersey and warmers. "Aren't you cold in that?" I enquire. "Not really," he tells me before extolling the virtues of the Castelli Gabba jacket he's wearing. "It breathes well, I've just got a base layer on under here. It'll shake off a shower and it stops the wind," he explains. "The only downside is it's only available in black," he says gesturing to the pewter sky with his eye behind his clear glasses.
What sorcery is this? I refuse to believe it can be as good as he claims. I'd heard tales of these things, seen them in use at Milan-San Remo. But everyone knows nothing can be breathable and stop wind at the same time, let alone also be waterproof. Plus, they were expensive.
As each Sunday morning passed, more and more people turned up wearing them. One clubmate boasted he had two for his commute.
It had been a journey for the Gabba jersey to that car park. Originally developed by then pro Gabriel Rasch, who had Frankenstein-ed together his own version by butchering an old team jacket, it was first released in 2011 after spending some time in development in the pro peloton.
The brief was simple; it needed to be warm, mostly dry and not have a billowing plastic raincoat slowing you down. That all had tangible benefits for racing, but it was pretty handy for everyday riding, too. Most importantly, it nailed it in the way nothing before had.
If you rode in the rain, ever, this was the holy grail of jackets. Still it didn't really take off until almost the entire peloton were pictured wearing one on the snow-disrupted 2013 edition of Milan-San Remo, logos blacked out to avoid the ire of sponsors.
It wasn't much later that I was standing looking at one in a car park on a Sunday morning.
Only when I was convinced to drop not an inconsiderable sum on one did I fully appreciate how good it was. It solved so many kit conundrums in one. Just throw it on and you'll likely be fine. Nothing can stop you. The only danger I've found is it can get hot if the sun comes out unexpectedly, but that's it.
To this day, one of the now three in my wardrobe remains my go-to bit of kit for most of the winter in southern England. It has never let me down, and it even withstood a few crashes.
Now every brand worth its salt has a version of the Gabba, the long sleeve version of which was rechristened the Perfetto by Castelli a few years ago. But it's notable how little the essential formula has changed in that time. The original is very nearly as good as the current iteration.
Good ideas last. Today, butchers still use chainmail gloves to protect them from cuts, much like the Celts did in battle in the 4th century BC. It'd be hyperbolic to suggest the Gabba will still be worn by riders in over 2,000 years time, but it's crystallisation of the standard required just might.
Thank you for reading 20 articles this month* Join now for unlimited access
Enjoy your first month for just £1 / $1 / €1
*Read 5 free articles per month without a subscription
Join now for unlimited access
Try first month for just £1 / $1 / €1