Dan Hunt joins Sky as sports director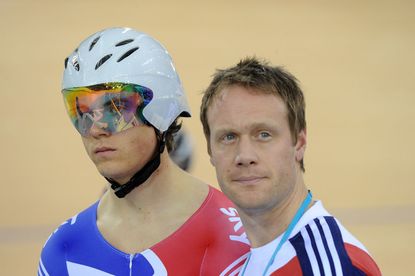 Great Britain track endurance coach Dan Hunt has joined Team Sky as a sports director for 2013.
Hunt had done some work as a DS for Sky in 2010 before returning to the GB camp to concentrate on his coaching duties with the British track squad ahead of the London 2012 Olympic Games.
Experienced Sky sports directors Sean Yates and Steven de Jongh left the team at the end of 2012. De Jongh left the squad after admitting to doping during his professional riding career, and Yates elected to retire from the sport.
Hunt has a wealth of experience as a coach, both in road riding and on the track - but admits that he may have some work to do when it comes to knowledge of some of the races that he will have to deal with as a DS.
"I want to learn the races and re-learn the job of a sports director," said Hunt. "But maybe also bring different things to the table, because I'm not an ex-pro. I haven't ridden these races, so I've got a bit of homework to do."
Hunt was key in helping the British men's team pursuit quartet come away from London 2012 with the gold medal, but now says that it's time to move on from track coaching and get back to road racing. Many of the faces will be familar - GB track endurance regulars Geraint Thomas, Ben Swift and Peter Kennaugh also ride for Sky and they, too, will switch focus to the road in 2013.
"I don't think it gets any better than Olympic gold at a home Olympics from a coaching point of view," said Hunt. "It's a great time to bow out and start a new challenge and I'm really excited about the project."
"Having done a bit of DSing in 2010 it was actually quite hard to go back to the Olympics, particularly two years out from the Games. But I'm really glad I did as I wouldn't want to have missed out on the experiences that I've had. Equally I don't want to do another four-year cycle as Olympic coach - I want to move into DSing."
Hunt's first race as DS will be the Mallorca Challenge in the first week of February.
Related links
Sky sports directors: Who's in the frame
De Jongh leaves Sky after doping admission
Sean Yates retires from Team Sky
Thank you for reading 20 articles this month* Join now for unlimited access
Enjoy your first month for just £1 / $1 / €1
*Read 5 free articles per month without a subscription
Join now for unlimited access
Try first month for just £1 / $1 / €1