De Jongh leaves Sky after doping admission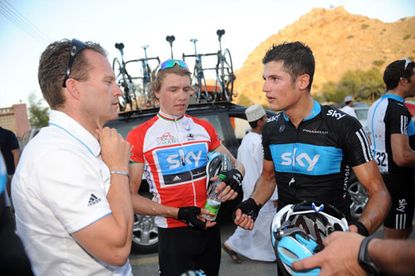 Steven de Jongh has left his job as directeur sportif at Team Sky after admitting to taking a banned substance during his time as a professional rider.
The Dutchman rode for TVM from 1995, joined Rabobank in 2000 and then QuickStep from 2005 up until the end of 2009. He joined Sky as DS when the team started in 2010.
De Jongh's admission came as Sky conducted interviews with all riders and team staff to reaffirm its anti-doping stance. All riders and staff must sign an agreement that they have no past or present involvement in doping. Anyone found to have broken the agreement will be immediately fired. Anyone not signing the agreement will have to leave the team.
No mention has so far been made as to when de Jongh took a banned substance, or what that banned substance was.
Race coach Bobby Julich left the squad last week after admitting to doping during his riding career. DS Sean Yates left on Sunday, announcing his retirement but the team stressed in a statement that he had not admitting to doping, as was published by the Daily Telegraph on Saturday.
Sky team principal David Brailsford said: "There's no doubt about Steven's work with us or his approach. He's been a highly-valued Sports Director and colleague over three seasons.
"Steven deserves our respect for the courage he's shown in being honest about the past and it's right that we do our best to support him. He has our best wishes for the next step in his career."
Sky had instigated its renewed affirmation of a strong anti-doping stance after the United States Anti-Doping Agency (USADA) published a lengthy report that concluded that Lance Armstrong doped during his seven Tour de France wins. Many of Armstrong's former team-mates at US Postal also admitted to doping. Subsequently, the Union Cycliste Internationale (UCI) stripped Armstrong of his seven Tour titles.
Related links
Team Sky riders and staff must sign anti-doping policy
Sean Yates retires from Team Sky
Bobby Julich leaves Team Sky after confessing to past doping
UCI allows for independent investigation and suspends libel case
LeMond calls for McQuaid to resign as UCI remain under fire
Armstrong's problems have only just begun
Prudhomme asks Armstrong to pay back prize money from Tour wins
UCI accepts USADA ruling and strips Armstrong of Tour de France titles
McQuaid defends UCI over claims of corruption and ineptitude
Thank you for reading 5 articles this month* Join now for unlimited access
Enjoy your first month for just £1 / $1 / €1
*Read 5 free articles per month without a subscription
Join now for unlimited access
Try first month for just £1 / $1 / €1