Di Luca ready to return, doping ban reduced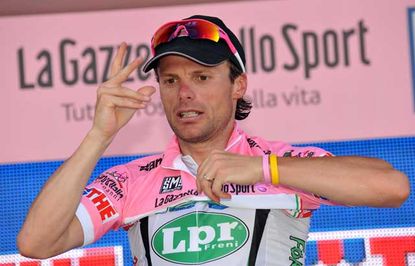 Former Giro d'Italia winner Danilo Di Luca is ready to return to racing immediately after he received a reduction in doping ban today. Due to his collaboration, the Italian anti-doping tribunal (TNA) reduced his ban by nine months and seven days.
On February 1, the same tribunal banned Di Luca for two years and fined him €280,000 for doping at last year's Giro d'Italia. Di Luca finished second overall behind Russian Denis Menchov. However, on July 22, two months later, the Union Cycliste Internationale (UCI) revealed he tested positive for blood booster EPO-CERA twice during the Giro d'Italia.
Di Luca got off lucky in a sense since the Italian Olympic Committee (CONI) had recommended a three-year ban based on his prior record. In 2007, after he won that year's Giro d'Italia, Di Luca received a three-month ban for his involvement in the 2004 Oil for Drugs case centred around Carlo Santuccione, or 'Ali the Chemist'.
In a thrilling Giro d'Italia final last year in Rome, Di Luca came within 41 seconds of winning the race. He came away second overall and with two stage wins: stage four on May 12 and stage 10 on May 19. His two positive controls came from blood samples taken after stage 11 on May 20 and stage 18 on May 28.
On September 23 this last month, Di Luca's lawyers asked the TNA to re-open the case based on the World Anti-Doping Agency (WADA) code for collaboration. Article 10.5.3 allows for a suspension reduction if an athlete helps investigators to uncover other violations.
The TNA had reduced other suspension based on collaboration: Riccardo Riccò's by four months and Emanuele Sella by one year.
Di Luca, according to Italy's La Gazzetta dello Sport newspaper, clarified questions for investigators and helped them form links in other doping raids. This year throughout Italy, there have been numerous doping raids - Mantova - Filippo Manelli, GiroBio - Bruno Leali and last month, the Cobra-Red investigation of Enrico Rossi.
With his help, Di Luca is eligible to race immediately instead of the original July 21 date and may participate in the Japan Cup on October 25. He will reportedly return to racing with the first division team of Mauro Gianetti, Geox.
Related links
July 2009: Di Luca positive for EPO at Giro
Thank you for reading 20 articles this month* Join now for unlimited access
Enjoy your first month for just £1 / $1 / €1
*Read 5 free articles per month without a subscription
Join now for unlimited access
Try first month for just £1 / $1 / €1