Former Giro d'Italia winner Di Luca admits doping mistakes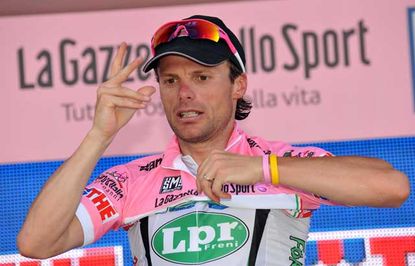 Former Giro d'Italia winner Danilo Di Luca admitted yesterday in Possagno, Italy, that he made a mistake by doping.
"I was wrong. Why did I do it? Good question," Di Luca said, according to La Gazzetta dello Sport. "When you're inside a system, you end up, for good or evil, being a part of that system and make mistakes."
Italian Di Luca spoke in front of 500 students as part of a programme organised by cyclist-turned-priest, Marco Pozza. Pozza met Di Luca's lawyer by chance in a train and asked to help client.
Di Luca tested positive twice for blood booster EPO-CERA at the Giro d'Italia last year. The test results were revealed after the race, after he finished second by 41 seconds to Russian Denis Menchov and won two stages.
The Italian Olympic Committee (CONI) recommended a three-year ban based on his prior record. In 2007, after he won that year's Giro d'Italia, Di Luca received a three-month ban for his involvement in the 2004 Oil for Drugs case centred around Carlo Santuccione, or 'Ali the Chemist'.
Instead, the Italian anti-doping tribunal (TNA) banned Di Luca for two years and fined him €280,000. And on October 15, it reduced his ban by nine months and seven days - freeing him to race immediately. The reduction came thanks to Di Luca's collaboration with prosecutor, Benedetto Roberti.
Di Luca reportedly clarified questions and helped Roberti form links in other doping investigations. This year throughout Italy, there have been numerous doping raids - Mantova - Filippo Manelli, GiroBio - Bruno Leali and the Cobra-Red investigation of Enrico Rossi.
"I told everything to the Roberti and in some way, I feel free. I talked about myself and how the doping mechanism works," added Di Luca.
"I'm ready to go head-strong, knowing that I can return to winning without shortcuts. Ten years ago it would have been impossible. I have no proof, but I think the majority of professionals doped. Now, I know that the situation has changed."
Di Luca now faces a difficult situation, he must find a team who wants to sign a controversial rider. It the same situation for Italian cyclists Franco Pellizotti and Davide Rebellin, who were both involved in doping investigations.
"I wanted to sign my new contract here in front of you, but I have yet to find a deal," Di Luca told the students. "I will make a decision as soon as possible and come back here to talk more."
He said that there are two or three teams interested in signing him.
Related links
Di Luca ready to return, doping ban reduced
Thank you for reading 20 articles this month* Join now for unlimited access
Enjoy your first month for just £1 / $1 / €1
*Read 5 free articles per month without a subscription
Join now for unlimited access
Try first month for just £1 / $1 / €1