Garmin reports 71% profit fall in cycling and fitness business as pandemic bubble bursts
US manufacturer anticipates new products will revive fortunes in 2023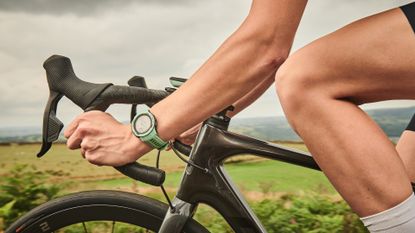 (Image credit: Future)
Leading US tech brand Garmin has reported a 71% drop in operating profit across its cycling and fitness division in 2022 as the pandemic bubble burst, the company's annual report said.
Published on Wednesday, the company's final report for the 2022 fiscal year shows that operating income was $105m (£87m) from its fitness range, which includes GPS cycling computers, watches and indoor turbo trainers.
This is a 71% year-on-year decrease compared with 2021, when the operating income for the same division was $359m (£298m). Revenue for the fitness division fell less dramatically by 28% to $1.1bn (£910m) in 2022 down from $1.5bn (£1.24bn) in 2021.
The 2022 income was also drastically lower than pre-pandemic levels. In 2019, Garmin reported operating profit of $191m (£158m) within its fitness vertical, a small increase on the previous year, which came in at $181m (£150m).
The cycling computer giant becomes the latest in a string of companies that have struggled with the fall in the cycling market following a massive boom during the pandemic. Then, when people were deprived of their ability to embrace a lot of social activities, they invested in their fitness and hobbies but that has slowed in 2022.
Garmin competitor Wahoo Fitness has struggled with liquidity in recent months, Strava has upped its prices and in the UK a string of cycling kit companies have closed their doors.
Speaking to investors about the company's cycling business, Cliff Pemble, Garmin president and CEO, said: "In fitness we saw the indoor cycling area and bike trainer market has normalised after the pandemic, we saw cycling products coming back to their normal levels, which we feel is very healthy."
He added: "Going forward we see the cycling market stabilising so that shouldn't be a factor going forward. Secondly we have an exciting product roadmap and we know we benefit from new product introductions."
He emphasised that a lot of the products Garmin makes across fitness are in a highly competitive environment but that he had faith the company had unique and valuable offers to make to consumers.
Garmin forecast that revenue in its fitness business would fall 5% in 2023.
Garmin's overall results for 2022 were, however, more positive than the fitness business alone due to growth in its other businesses, which include products for cars and boats. It reported an 11% fall in pre-tax profit to $1.06bn (£880m) while revenue fell just 2.5% to $4.9bn (£4bn).
The US manufacturer has been rumoured to be launching updates of its Edge 830 and Edge 530 computers, presumably the 840 and 540, this year but has yet to confirmed anything.
Thank you for reading 20 articles this month* Join now for unlimited access
Enjoy your first month for just £1 / $1 / €1
*Read 5 free articles per month without a subscription
Join now for unlimited access
Try first month for just £1 / $1 / €1