Geraint Thomas set to stay with Team Sky after contract talks
Thomas says "we're pretty close" and expects the deal to be finalised in the next few days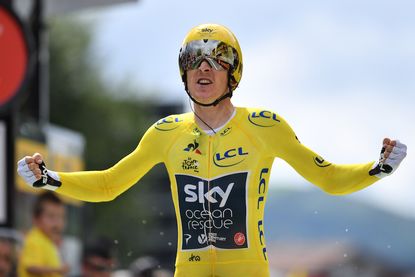 (Image credit: Getty Images)
Geraint Thomas has all but confirmed he will ride with Team Sky in 2019 - despite offers from elsewhere.
The 2018 Tour de France victor is understood to be looking at a deal worth £3.5million a year, according to The Telegraph.
In an interview, he said: "There's some teams interested but I'm happy here [with Team Sky]. And it seems to be working at the moment.
"I know they had a meeting today and I know we're pretty close, so hopefully it'll all be sorted in the next few days."
Thomas returned to Cardiff to streets lined with fans for a hero's welcome, on Thursday evening.
The reaction in Wales was very different to that he experienced in parts of France.
Team Sky received a hostile welcome in at the Tour, particularly Chris Froome, who was cleared to ride days before the race after he was cleared of an adverse analytical finding for salbutamol.
Discussing the verbal and physical abuse he and Froome faced, Thomas said: "I think it just motivated us more, it brought us all together and gave us that common enemy in a way. You know, lets prove them wrong and let's annoy them even more.
"We thrived off that in a way. Obviously when it starts to affect the race it's not good. Verbals and stuff is fine, but when they start trying to grab riders and like pushing Froomey (Chris Froome) or whatever, then that's too much."
The 32-year-old has received an offer from the Polish team, CCC, following its merger with BMC.
CCC Director Piotr Wadecki said: "Our sponsor has the ambition to compete in the general classification at Grand Tours.
"He [Thomas] won the Tour de France, but will he be number one [at Team Sky]? There's Chris Froome who will want to win. With us, Geraint would already know in January that his goal is the Tour de France and we would definitely focus on him."
Earlier in August UCI president David Lappartient said he was considering re-opening discussions around team budget caps and looking at dropping roster numbers from eight to six, largely in an effort to topple Team Sky's dominance.
Team Sky is estimated to have a budget of around €30 million, comparative to the likes of Sunweb with around €15 million and Movistar with €12 million.
Lappartient pinpointed Team Sky repeatedly in an interview with the French newspaper Libération, saying: "We could regulate the overall payroll of the teams, to balance the forces."
"Because today, we realize that Sky has Geraint Thomas, Chris Froome and Egal Bernal, three riders who could be first, second and third in the Tour de France. However, cycling is interesting when the best are in different teams."
Thank you for reading 20 articles this month* Join now for unlimited access
Enjoy your first month for just £1 / $1 / €1
*Read 5 free articles per month without a subscription
Join now for unlimited access
Try first month for just £1 / $1 / €1