Is Team Sky's dominance ruining cycling? Rival teams give their opinions
Rival teams bemoan Sky's big budget, but say they are getting closer to beating the British team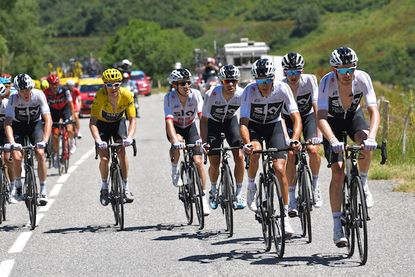 (Image credit: Tim de Waele/Getty Images)
Team Sky's dominance in cycling – with seven Grand Tour wins in nine years – has been seen by some as suffocating the sport, and with the team looking set for another Tour de France victory in 2018 there are suggestions that this dominance may not be good for cycling.
However within the peloton there is a mix of opinions, with some such as UAE Team Emirates sports director Philippe Mauduit among those not happy with the high budget that Sky have compared to other teams.
"I don't think so," said Mauduit when asked if Team Sky's strong Grand Tour reign is bad for cycling
"The main problem is the way they do it: it's not very spectacular. Everything they do, it's in the same way, with a lot of arrogance and they always have a big packet of bills in their pocket that they show to everyone. That's simply the way they do it."
Team Sky run on an estimated £31 million per year that enables the management to keep the strong riders they developed – like Geraint Thomas and Chris Froome, currently first and second in the Tour – and make smart hires.
>>> Comment: How Team Sky's Tour de France leadership strategy may backfire
Other teams operate on less, with some having just half of, or even a third of, Team Sky's budget.
"No, there's no jealously," added Mauduit. "At one point, they have such an amount of money and we have to admit, they use it in the right way. It'd be stupid if they didn't use it that way. We can't be jealous. We don't have it, but it's not their fault."
The team first won the Tour with Bradley Wiggins in 2012. Chris Froome, who placed second that year, returned to give the team four more wins.
He is going for his fifth title this year after winning the 2017 Vuelta a España and 2018 Giro d'Italia in the last 12 months.
They have a firm grip on the 2018 race overall, this time with Thomas leading the way and Froome in second at 1-39. And just like in this 2018 edition, their control has seldom been in doubt over the last six seasons.
"We have always had dominant teams, look back to ONCE, or other teams," Bora-Hansgrohe sports director Patxi Vila said.
"Now you see teams are not racing for third or fourth place, but there are riders who are in good shape and racing to win. In the past, they'd hold back and fight for their position. That's changed.
"For sure, they are the leading team in Grand Tours we have to accept that, but the rest of us need to work and get results. That's why we are here."
"In every sport, you have a few years of dominance from one team or rider, then the competitors find the key to break them," said LottoNL-Jumbo general manager Richard Plugge. "And that's what we are looking for."
>>> Team Sky's dilemma: should Geraint Thomas now be considered their Tour de France leader?
LottoNL-Jumbo are trying to break Sky's grip on the Tour with Primoz Roglic and Steven Kruijswijk. On the Mende finish on Saturday Roglic attacked to gain a few seconds on Froome and Thomas.
Team Sunweb perhaps have the most lethal bullet to pierce Sky's armour with Tom Dumoulin, who can climb and time trial. He won the 2017 Giro, placed second to Froome in the 2018 edition, and now sits third overall behind the Sky duo.
"They have a huge budget to try to bring a cycling team to a high level, and they've done that," Sunweb sports director Luke Roberts said.
"Teams will try to raise the bar themselves to try to challenging them. We have done a good job here, came close to winning the Giro with Froome there, and we are doing well here. I think we can challenge Sky.
"But it's that way with any sport, the fans of the team or rider will enjoy it, and the others will keep hope but will have disappointment if it doesn't happen. That's the same with any sport, and you see that in cycling.
Thank you for reading 20 articles this month* Join now for unlimited access
Enjoy your first month for just £1 / $1 / €1
*Read 5 free articles per month without a subscription
Join now for unlimited access
Try first month for just £1 / $1 / €1