Giant facing legal claim of over £200,000 after bike collapse causes broken back
Taiwanese manufacturers have admitted fault, according to reports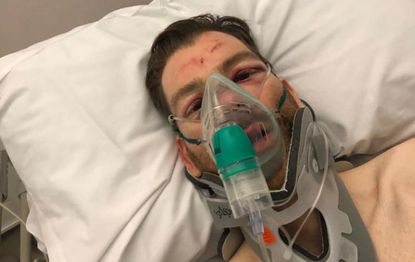 (Image credit: Ben Norbury)
Giant is facing a legal claim of more than £200,000 after a cyclist broke his back in four places following his Propel Advanced 2 breaking apart at 15mph, The Times reported this week.
Ben Norbury, the founder of the the cycling-cum-weather application myWindsock, is suing Giant under the Consumer Protection Act after the bike collapsed under him while he was out riding, after he had owned it for just five months.
In written submissions to the High Court, Norbury's barrister, Adam Korn, said that he had no time to break his fall and therefore suffered concussion, dental injuries and a broken nose in addition to the damage to his back and neck.
Korn told the High Court that the cyclist suffered several spinal fractures when he hit the ground face first close to his then home in Sandbach, Cheshire.
Initially, the UK arm of Giant denied liability, arguing that Norbury caused the problems with his bike by changing the stem and handlebars, but now the company has reportedly admitted fault, with compensation pending. Giant UK could face a payout of over £200,000 to the 39-year-old.
The founder of myWindsock was a keen cyclist before his accident, competing in time trials and road races as a member of Congleton Cycling Club, but is said to have struggled to return to the bike since.
He had paid £2,199 for the Giant Propel Advanced 2 in the autumn of 2021, but then five months later, was travelling at about 15mph when his front fork detached itself. He is now suing Giant for selling a bike with an "inherent defect".
Korn claimed that the accident occurred because of a manufacturing fault with the joint between the alloy steerer tube and the bike's carbon fork.
"There was an inherent defect in the adhesive bond between the steerer tube and the crown socket," he said. "It's likely to have been caused by inadequate surface preparation of the steerer tube spigot at the time of manufacture."
The court was told that Norbury was "concerned that his passion has been taken from him", and that he has suffered flashbacks and trauma. After his corrective spinal surgery, he was said to have been left with lingering neck pain, headaches, mood swings and problems with memory.
He also said that he has "anxiety dreams" and a fear of cycling, despite being desperate to return to his former obsession.
At a recent hearing at the High Court designed to determine trial management issues, Korn told the judge, Master Roger Eastman, that Giant UK had "conceded liability", after previously arguing that Norbury's adjustments to his bike were to blame.
A hearing will be held at a later date to assess compensation.
In a statement on Friday, Giant UK said: "It is not appropriate for us to comment on ongoing matters of this nature."
Thank you for reading 20 articles this month* Join now for unlimited access
Enjoy your first month for just £1 / $1 / €1
*Read 5 free articles per month without a subscription
Join now for unlimited access
Try first month for just £1 / $1 / €1