IQ² launches Kickstarter for what could be the cheapest power meter yet
Kickstarter prices from £130 for a single sided option with estimated delivery dates in September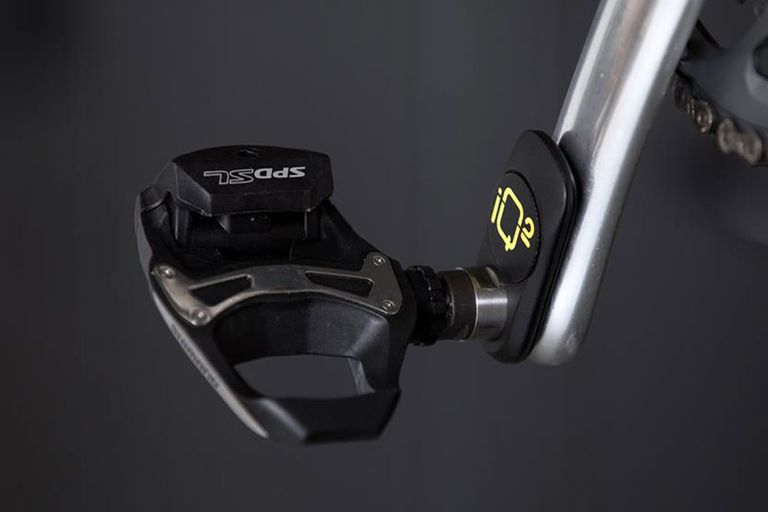 New brand IQ² is offering single and dual sided power meters at a bargain price with claims of improved accuracy over competitors.
Pronounced IQ square, the brand is offering its single sided power meter at €149 (£130) and the dual sided version at €249 (£217), in a Kickstarter deal.
IQ² has already far exceeded its Kickstarter target, having raised £237,558 – far outshooting the £87k target and gaining support from 1,217 backers at time of writing.
Stock is expected to arrive in September, and retail prices will be €199 (£174) and €349 (£304). Up until now, cheap options have been single sided crank based versions - such as the 4iii Precision power meter, at £379.
To produce the power meter, IQ² product developers worked with external electrical engineers, and the final product will be manufactured in the Netherlands and England.
The device, which designers began working on in February 2017, sits between the pedal and crank, and the brand claims that the use of a "thin film nanostructure strain gauge" means that the readings can be more accurate.
This is because elsewhere, strain gauges must be hand glued, causing minor discrepancies – whilst this form requires no "human interaction" because the gauge is directly deposited on the surface and molecularly bonded then trimmed by laser.
In a press release, the brand claims to have "rendered all prior generations, makes and models of power meter devices obsolete" and the resulting creation tips the scales at just 29.7grams.
The power meter uses a replaceable CR2032 battery, with a life of 200-300 hours, and connects to cycling computers and apps via Bluetooth and Ant+.
You can purchase left only, right only or dual power and is water and dust proof. It works by assessing the degree to which the metal bends with each pedal stroke, the strain gauge then captures this pressure as a change in electrical resistance.
Configuration – setting crank length and calibration - is made possible via a partner app. The app is required to provide left/right power balance data, whilst battery warnings can come via the app and also via LED lights on the unit.
In 2015, Scottish brand Limits launched a power meter via crowdfunding - but the delivery schedule ran well over due date. At Cycling Weekly we did eventually get our hands on a model, and found it to be accurate when compared with a market leader.
The IQ² power meter has a max rider weight of 110kg and comes with a two year guarantee.
Thank you for reading 5 articles this month* Join now for unlimited access
Enjoy your first month for just £1 / $1 / €1
*Read 5 free articles per month without a subscription
Join now for unlimited access
Try first month for just £1 / $1 / €1
Cycling Weekly's Digital Editor Michelle Arthurs-Brennan is a traditional journalist by trade, having begun her career working for a local newspaper before spending a few years at Evans Cycles, then combining the two with a career in cycling journalism.
When not typing or testing, Michelle is a road racer who also enjoys track riding and the occasional time trial, though dabbles in off-road riding too (either on a mountain bike, or a 'gravel bike'). She is passionate about supporting grassroots women's racing and founded the women's road race team 1904rt.
Favourite bikes include a custom carbon Werking road bike as well as the Specialized Tarmac SL6.