Boardman: Pollution deaths should be treated as a national emergency
British Cycling policy advisor says that the figures on deaths linked to nitrogen dioxide in the UK are "staggering"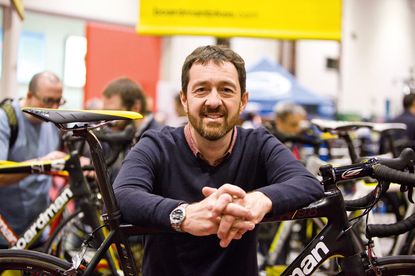 Chris Boardman has called on the government to properly commit to the forthcoming Cycling and Walking Investment Strategy in order to reduce the number of nitrogen dioxide (NO2) related deaths, after figures estimated it causes 23,500 deaths in the UK every year.
The figures were released within a consultation paper by the Department for Environment, Food and Rural Affairs to investigate levels of NO2 in the air, which says it wants 'to make the UK a country with some of the very best air quality in the world.'
Boardman, who acts as British Cycling's policy advisor, reacted to the data by saying it was "staggering" and that the situation should be treated "as a national emergency," citing the Netherlands as a country which has properly committed to prioritising cycling and walking.
"The amount of deaths link to NO2 is a staggering figure, so I am mystified as to why these largely preventable deaths aren't being treated as a national emergency; a full-blown crisis," Boardman said.
"This is particularly true since the solution is so obvious and is already being employed all across Europe.
>>> Chris Boardman explains why cyclists ride two abreast in new safety video
"We know that more cycling and walking could drastically reduce the death toll caused by pollution if we committed to it like our European neighbours.
"In the Netherlands - just 250 miles from where our government sits - 44% of all train journeys start with a bike ride and 50% of all school children ride to school. Why are we not striving for the same?
Prime minister David Cameron stated during the 2015 general election campaign that he would be willing to commit £10 per head funding through the Cycling and Walking Investment Strategy. But Boardman has called on those in charge to think further about the investment to prevent what he describes as "needless" deaths.
"The forthcoming Cycling and Walking Investment Strategy could, with serious commitment and adequate funding, establish an infrastructure which would give people a genuine option to leave their car at home and travel to offices and schools on foot or by bicycle," said Boardman.
"Prioritising cycling and walking in our transport system is a proven, cheap, effective and sustainable solution to many of our problems. With so many needless deaths, the government shouldn't be asking themselves 'why should we?' invest in cycling, but rather, start explaining why they aren't."
Thank you for reading 20 articles this month* Join now for unlimited access
Enjoy your first month for just £1 / $1 / €1
*Read 5 free articles per month without a subscription
Join now for unlimited access
Try first month for just £1 / $1 / €1