Colombian women's team kit: UCI issues statement
Union Cycliste Internationale reacts to Colombian team's controversial team kit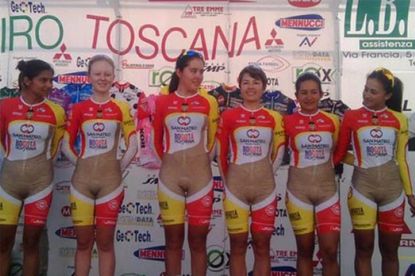 (Image credit: Twitter)
Cycling's governing body, the Union Cycliste Internationale (UCI), has issued its official statement regarding the controversial kit design for the Colombian IDRD-Bogota Humana-San Mateo-Solgar team that has caused a stir on social media.
A photograph of the team wearing the kit appeared on social media after the Giro Toscana. In the unflattering image, the gold middle section appears to be flesh-coloured. Now the UCI has stepped in after its president Brian Cookson commented on Twitter that "it is unacceptable by any standard of decency".
"The Union Cycliste Internationale (UCI) has investigated the issue of the kits worn by women's club team IDRD-Bogota Humana-San Mateo-Solgar of Colombia, this weekend in Italy, in the Tour of Tuscany, a 3-day event registered on the UCI calendar as a 2.2 race. The UCI will be sending a letter to the Colombian Federation reminding them of their responsibility regarding article 1.3.046 in the control of regional and club team kits that compete in international events."
Article 1.3.046 of the UCI Cycling Regulations (Part 1 general organisation of cycling as a sport) states:
"Each regional or club team for whom one or more riders take part in an event on the international calendar must, at the start of the year, notify the details of their clothing to their national federation specifying in detail the colours and their arrangement and the main sponsors.
"The name of the region and/or club may appear, in full or in abbreviated form, on the jersey."
After the furore caused by the kit, the team probably won't need any further prompting by the UCI or its national federation to create a new design.
Thank you for reading 20 articles this month* Join now for unlimited access
Enjoy your first month for just £1 / $1 / €1
*Read 5 free articles per month without a subscription
Join now for unlimited access
Try first month for just £1 / $1 / €1