Dave Rayner Fund announces list of 36 cyclists supported for 2018
Nine women and 27 men will be supported by the Dave Rayner Fund for the 2018 season, as they gain experience racing on the continent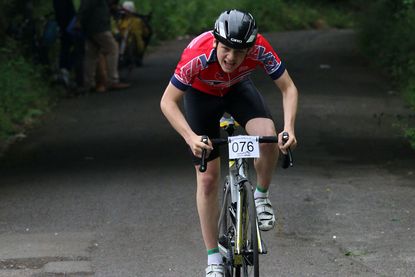 (Image credit: Nigel Wynn)
The Dave Rayner Fund has announced the list of 36 male and female riders who will receive financial support for the 2018 cycling season.
The number of women supported by the fund has risen to nine for 2018, with 27 men. A total of 20 riders will receive funding for the first time.
Overall, the number of funded riders stays at 36 – the same as 2017 – but significantly more than the 27 riders who received help in 2016.
The fund's aim is to encourage and support young riders gain valuable experience by racing and living on the continent. It was set up in 1995 in memory of British racer Dave Rayner, who died aged 27.
A number of Dave Rayner funded riders have gone on to compete at the highest level of the sport, including David Millar, Adam Yates, Dan McLay, Owain Doull, Hannah Barnes, James Shaw and Tao Geoghegan Hart.
Once again, the Fund says that it had a large number of riders applying for funding for the new season.
"We had a huge number of applicants and unfortunately not everyone could receive support," said the Fund in a statement.
"We hope that those riders who were unsuccessful nevertheless manage to fulfill their ambition to race abroad and we wish them the best of luck."
Supported riders have joined teams from across Europe, including France, Belgium, Spain, Italy and the Netherlands.
>>> The rise of Tao Geoghegan Hart: British prodigy's long road to Team Sky
Dave Rayner Fund riders 2018
Name of rider – team they will ride for/country
Stuart Balfour – Cotes d'Armor Cyclisme Marie Morin/France
Alex Baybrooke – AVC Aix Cycling Team/France
Lewis Bulley – Cotes d'Armor Cyclisme Marie Morin/France
Megan Chard – Health Mate CycleLive/Belgium
Henrietta Colbourne – Bizkaia Durango/Spain
Zak Coleman – VP Consulting Zanatta/Belgium
Conor Davies – Baguet MIBA CT/Belgium
Stephen Dent – Baguet MIBA CT/Belgium
Jack English – Asfra Flanders Cycling Team/Belgium
Holly Flannery – Swabo Ladies/Netherlands
Ben Foames Darran – Goma Dakwerken/Belgium
George Greenhalgh – Hand Baal/Belgium
Harry Hardcastle – AC Bisontine/France
Theo Hartley – Illi Bikes CT/Belgium
Jane Hellewell – Autoglass Wetteren/Belgium
Jacob Hennessy – Mitchelton-Scott Continental Team/Italy
Sam Henning – Asfra Flanders/Belgium
Amy Hill – Maaslandster Ladies/Netherlands
Owen James – Cotes d'Armor Cyclisme Marie Morin/France
George Jary – Eiser Hirumet/Spain
Ross Lamb – Team T Palm Pole/Belgium
Keira McVitty – Isorex Ladies CT/Belgium
Louis Modell – Hennebont Cyclisme/France
Olly Moors – MIBA Baguet Cycling Team/Belgium
Hetty Niblett – Keukens Redant CT/Belgium
Tomos Owens – Goma Dakwerken/Belgium
Adam Pinder – Hand in Hand Baal/Belgium
Eliot Redfern – Eiser Hirumet/Spain
Jamie Ridehalgh – AC Bisontine/France
Amy Smith – Isorex Ladies CT/Belgium
Max Spedding – Asfra Flanders/Belgium
Isabella Stone – Isorex Ladies CT/Belgium
Joe Sutton – Goma Dakwerken Team/Belgium
Jacob Vaughan – Lotto-Soudal U23/Belgium
James Wilkinson – AC Bisontine/France
Max Williamson – Eiser Hirumet/Spain
Thank you for reading 20 articles this month* Join now for unlimited access
Enjoy your first month for just £1 / $1 / €1
*Read 5 free articles per month without a subscription
Join now for unlimited access
Try first month for just £1 / $1 / €1