Elite men's World Championship time trial start list
Full list of starters for the elite men's individual time trial at the 2015 UCI Road World Championships in Richmond on Wednesday, September 23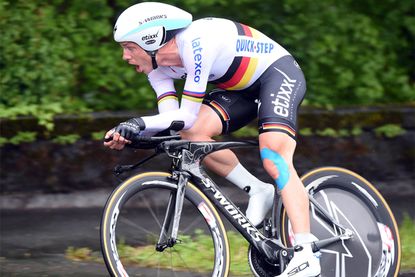 Seventy riders line up to contest the 2015 UCI Road World Championships elite men's individual time trial title on Wednesday, September 23, in Richmond, USA.
In the absence of 2014 champion Bradley Wiggins, top-seeded rider is last year's runner-up, Tony Martin (Germany). The triple former TT world champion is the outright favourite to take a title for a fourth time.
First rider off is Michael Hepburn (Australia) at 1pm local time (6pm UK time). Hepburn is capable of laying down an early mark that could see him occupy the hotseat for an extended stretch.
Great Britain is represented by two riders: Alex Dowsett and Steve Cummings. Dowsett has already tasted success at the 2015 Worlds with a bronze medal in the team time trial with trade squad Movistar. The Essex man embarks at 2.30pm local time (7.30pm UK time).
Tour de France stage winner Cummings goes off earlier than Dowsett, rolling down the start ramp at 1.27pm (or 6.27pm UK time).
The elite men tackle a 53.5km course.
Swipe to scroll horizontally
| | | | |
| --- | --- | --- | --- |
| Start time (UK) | Start time (local) | Name | Country |
| 19:43:30 | 14:43:30 | MARTIN Tony | Germany |
| 19:42:00 | 14:42:00 | DUMOULIN Tom | Netherlands |
| 19:40:30 | 14:40:30 | KIRYIENKA Vasil | Belarus |
| 19:39:00 | 14:39:00 | DENNIS Rohan | Australia |
| 19:37:30 | 14:37:30 | MALORI Adriano | Italy |
| 19:36:00 | 14:36:00 | BRANDLE Matthias | Austria |
| 19:34:30 | 14:34:30 | CASTROVIEJO NICOLAS Jonathan | Spain |
| 19:33:00 | 14:33:00 | BODNAR Maciej | Poland |
| 19:31:30 | 14:31:30 | KUENG Stefan | Switzerland |
| 19:30:00 | 14:30:00 | DOWSETT Alex | Great Britain |
| 19:28:30 | 14:28:30 | BARTA Jan | Czech Republic |
| 19:27:00 | 14:27:00 | SANTOS SIMOES OLIVEIRA Nelson Filipe | Portugal |
| 19:25:30 | 14:25:30 | SERGENT Jesse | New Zealand |
| 19:24:00 | 14:24:00 | PHINNEY Taylor | United States of America |
| 19:22:30 | 14:22:30 | VAN DEN BROECK Jurgen | Belgium |
| 19:21:00 | 14:21:00 | JUUL JENSEN Christopher | Denmark |
| 19:19:30 | 14:19:30 | COPPEL Jerome | France |
| 19:18:00 | 14:18:00 | NAVARDAUSKAS Ramunas | Lithuania |
| 19:16:30 | 14:16:30 | OVECHKIN Artem | Russian Federation |
| 19:15:00 | 14:15:00 | VANGSTAD Andreas | Norway |
| 19:13:30 | 14:13:30 | URAN URAN Rigoberto | Colombia |
| 19:12:00 | 14:12:00 | GRIVKO Andriy | Ukraine |
| 19:10:30 | 14:10:30 | HOULE Hugo | Canada |
| 19:09:00 | 14:09:00 | DEBESAY Mekseb | Eritrea |
| 19:07:30 | 14:07:30 | LUTSENKO Alexey | Kazakhstan |
| 19:06:00 | 14:06:00 | KANGERT Tanel | Estonia |
| 19:04:30 | 14:04:30 | NAVARRETE Segundo | Ecuador |
| 19:03:00 | 14:03:00 | SMUKULIS Gatis | Latvia |
| 19:01:30 | 14:01:30 | LARSSON Gustav | Sweden |
| 19:00:00 | 14:00:00 | TZORTZAKIS Polychronis | Greece |
| 18:58:30 | 13:58:30 | NIYONSHUTI Adrien | Rwanda |
| 18:57:00 | 13:57:00 | TVETCOV Serghei | Romania |
| 18:55:30 | 13:55:30 | MIHAYLOV Nikolay | Bulgaria |
| 18:54:00 | 13:54:00 | RODAS OCHOA Manuel | Guatemala |
| 18:52:30 | 13:52:30 | HALMURATOV Muradjan | Uzbekistan |
| 18:51:00 | 13:51:00 | TUGULDUR Tuulkhangai | Mongolia |
| 18:49:30 | 13:49:30 | MARTINEZ Juan | Puerto Rico |
| 18:48:00 | 13:48:00 | PLIUSCHIN Alexandr | Republic of Moldova |
| 18:46:30 | 13:46:30 | POPSTEFANOV Gorgi | FYR of Macedonia |
| 18:45:00 | 13:45:00 | TAVERAS Norlandis | Dominican Republic |
| 18:43:30 | 13:43:30 | ELBOURDAINY Ahmed | Qatar |
| 18:42:00 | 13:42:00 | ALBOS CAVALIERE David | Andorra |
| 18:40:30 | 13:40:30 | ARNDT Nikias | Germany |
| 18:39:00 | 13:39:00 | KELDERMAN Wilco | Netherlands |
| 18:37:30 | 13:37:30 | SIUTSOU Kanstantsin | Belarus |
| 18:36:00 | 13:36:00 | DURBRIDGE Luke | Australia |
| 18:34:30 | 13:34:30 | MOSER Moreno | Italy |
| 18:33:00 | 13:33:00 | POSTLBERGER Lukas | Austria |
| 18:31:30 | 13:31:30 | SANCHEZ GIL Luis Leon | Spain |
| 18:30:00 | 13:30:00 | BIALOBLOCKI Marcin | Poland |
| 18:28:30 | 13:28:30 | DILLIER Silvan | Switzerland |
| 18:27:00 | 13:27:00 | CUMMINGS Stephen | Great Britain |
| 18:25:30 | 13:25:30 | VAKOC Petr | Czech Republic |
| 18:24:00 | 13:24:00 | BEWLEY Sam | New Zealand |
| 18:22:30 | 13:22:30 | CRADDOCK Lawson | United States of America |
| 18:21:00 | 13:21:00 | LAMPAERT Yves | Belgium |
| 18:19:30 | 13:19:30 | QUAADE Rasmus Christian | Denmark |
| 18:18:00 | 13:18:00 | SICARD Romain | France |
| 18:16:30 | 13:16:30 | BAGDONAS Gediminas | Lithuania |
| 18:15:00 | 13:15:00 | ZAKARIN Ilnur | Russian Federation |
| 18:13:30 | 13:13:30 | LAENGEN Vegard Stake | Norway |
| 18:12:00 | 13:12:00 | ROTH Ryan | Canada |
| 18:10:30 | 13:10:30 | FOMINYKH Daniil | Kazakhstan |
| 18:09:00 | 13:09:00 | TAARAMAE Rein | Estonia |
| 18:07:30 | 13:07:30 | QUISHPE Carlos Eduardo | Ecuador |
| 18:06:00 | 13:06:00 | SARAMOTINS Aleksejs | Latvia |
| 18:04:30 | 13:04:30 | LUDVIGSSON Tobias | Sweden |
| 18:03:00 | 13:03:00 | SAKELLARIDIS MANGOURAS Neofytos | Greece |
| 18:01:30 | 13:01:30 | GERMAN MERAN Rafael | Dominican Republic |
| 18:00:00 | 13:00:00 | HEPBURN Michael | Australia |
Thank you for reading 5 articles this month* Join now for unlimited access
Enjoy your first month for just £1 / $1 / €1
*Read 5 free articles per month without a subscription
Join now for unlimited access
Try first month for just £1 / $1 / €1