Ever wanted to get your hands on a pro's bike? Here's how
Can't afford a range-topping bike? Then why not treat yourself to a used pro team machine?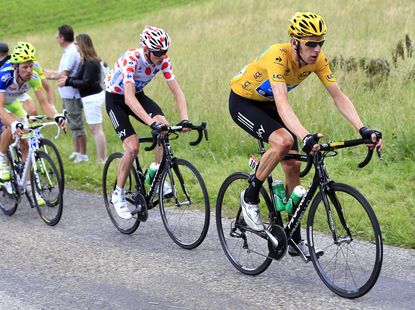 (Image credit: watson)
Get The Leadout Newsletter
The latest race content, interviews, features, reviews and expert buying guides, direct to your inbox!
Thank you for signing up to The Pick. You will receive a verification email shortly.
There was a problem. Please refresh the page and try again.
"It seemed too good to be true," explained Royal Leamington Spa Cycling Club member Gary Hibbert. "A full Canyon Aeroad CF carbon-fibre bike, with Dura-Ace Di2 and Mavic Cosmic Carbone wheels for just over £3,200."
The pro bike in question was that of Katusha rider Mikhail Ignatiev, who used it during the 2013 season.
Brand new, its retail price would have pushed £4,500, but because the Olympic track champion had raced on it, the purchase price was nearly 25 per cent less.
Hibbert is just one of a number of amateur riders who has purchased a former pro bike for themselves, which for the most part come at a reduced price.
"Ex-team bikes are a chance to own a piece of history," said Condor's brand manager Claire Beaumont, who owns the bike Dean Downing won the 2008 British Circuit Race Championships on.
"Being able to sit on a steed that has crossed the line first at a high-profile event or even won a stage race is something very few people can say when they are out on a club run!"
However, there are some notable exceptions when it comes to the used pro bikes costing less than brand new ones. Last year, CW competition winner Jackie Fraser auctioned off a Pinarello Dogma used by Chris Froome in the 2012 Tour de France for charity. A total of 25 bids were made for the bike on eBay, with the winner paying £10,250.
And the popular auction website currently has another Pinarello available for big money on offer — this one being a time trial bike raced by Miguel Indurain in 1992. The asking price? A cool £47,000.
Despite the large sums being offered for some bikes, like most things, the buying and selling of used pro team bikes has been made more accessible by the internet.
A distinctive low-pro Gazelle frame, believed to be used in the 1994 Tour de France by Belgian rider Hendrik Redant, has been in enthusiasts' hands now for nearly two decades.
It currently belongs to Cambridge resident Joe Sutherland, who paid just £300 for it, having seen it listed on the Retro Bikes collectors' forum.
"The uniqueness of it was what attracted me to it. It's in good condition — we contacted Hendrik, but he said he couldn't remember if he rode it or not!"
Tweak it and ride
It's said that nothing rides the same as a new bike. However, if you get lucky with your purchase then you can still enjoy that new bike feeling, albeit after a few tweaks.
"Generally, pros like their geometry long and low so if you are purchasing a bike, be prepared to play about with the stem length or book in a bike fit," added Beaumont.
Australian-based CW reader Paul Baybrook purchased a Vacansoleil-DCM team issue Bianchi Oltre bike from the manufacturer's distribution company in the country. He paid £5,400 for it — almost half the retail price — and has no regrets about his purchase.
"I've covered 7,000km on it so far, and I have had no problems with it at all," he said.
"Buying this bike allowed me to go way beyond my usual budget. It was used at the Tour Down Under that year for a few stages and then sold on — I'm not sure who rode it, but it could have been Thomas De Gendt.
"There was not a mark on it that I could see and it came with a new 2012 SRAM Red groupset, as apparently someone at the distributor had taken the other one without asking.
Hibbert agreed: "It wasn't a new bike that I bought, but it was still in excellent condition. Yes, there were a few light marks on it, but nothing to detrimental to the bike's overall feel or performance," he said.
Money maker
As well as giving amateurs a chance to ride a bike used by some of the sport's biggest names, the selling off of pro bikes is good business for the teams and manufacturers.
Garmin-Sharp had nearly 50 used 2014 bikes for sale at the start of November, and will generate nearly £130,000 should they sell all of those at their current sale price.
Hibbert was among the first people to buy a used Canyon online — the German-based manufacturer only started selling the bikes online in July.
"We had 56 Katusha and 38 Omega Pharma-Lotto bikes ready to sell," said the company's digital marketing editor Matthew Leake.
At the time of writing, only 14 Katusha bikes remain. Among those unsold from the Omega Pharma selection are bikes with custom artwork created for Philippe Gilbert, André Greipel and Jurgen van den Broeck.
Added Leake: "The most expensive bike we have sold so far was Joaquim Rodríguez's custom UCI WorldTour leader's bike, that he rode throughout 2013. That went for €6,499 (£5,095) — it was gone within a couple of days of putting it online.
"You'll pay more for one of the custom designs as these really are one-offs that cannot be replicated. Some of Rodríguez's old bikes carry a bit of a premium too, as they were ridden to several of his biggest results since we started our partnership with Katusha back in 2012."
Problem purchases
So what are the problems with buying ex-pro team bikes? When surveyed online, CW readers said the lack of warranty was a big reason for not buying one; indeed, none of the Cérvelo bikes currently being sold on by Garmin-Sharp have such protection for the buyer.
Baybrook's Bianchi did not come with one, either — not that this put him off.
He said: "My logic was that the bikes are so over-engineered, they could easily put up with what a pro throws at it for a few stages.
"Considering I would certainly not be putting 400W through it consistently I would not be pushing an already compromised frame beyond its limits. And having seen the Tour Down Under that year, I didn't remember any Vacansoleil riders going down hard!"
However, Canyon still offers customers their normal six-year warranty with sales of the ex-pro team bikes, while Condor offer two.
"Every single frame and fork has to pass through our in-house CT scanner here in Koblenz so we can examine if there has been any damage to the integral carbon structure beyond what the naked eye can see," said Leake. "If we find any evidence of damage then the parts are rejected. We want these bikes to be ridden, not placed on a pedestal just to be looked at. Anything unfit to ride is certainly unfit for us to sell."
Another common reason listed by CW readers for not buying ex-team bikes, is that pro riders don't look after them as well as those cyclists paying big money for them.
That can be the case when it comes to their training bikes, but as Beaumont points out: "Some might think that ex-team bikes are bikes that have been ridden into oblivion, but after every race each Condor Leggero team bike is handed back to the team's full-time mechanics to be cleaned, checked and lubed, and the bar tape and cables are replaced frequently throughout a season.
"Rapha Condor-JLT team riders have two or three bikes and that means they aren't riding one bike all year. Most of the bikes we get back from the team are in excellent condition, much better than a second-hand bike."
Canyon's servicing of the bikes continues once they have been handed back from the teams, too.
"We replace all the standard moving parts so each bike is delivered with new brake and gear cables, if it still has a mechanical drivetrain, as well as a new chain and new rear cassette," added Leake.
Where to look
If you're seeking to buy a pro's used bike, this is the best time of year to do so. Garmin-Sharp's merger with Cannondale for next season (and therefore a change of bicycle supplier) means that they have a wide range of bikes in the latest spec for sale. One of those is a 54cm P5 that was ridden by David Millar in his last season — it's also the only one available that comes with a mechanical groupset, and is available for just £2,815.
Canyon expect to receive 60 bikes from the Katusha and Movistar teams, and Condor will likely have a large number of bikes used by Rapha Condor-JLT riders available for the public this winter, too.
Where to see former pro bikes
If buying a used bike doesn't do it for you, here's where you can see some of the bikes that created cycling history.
Sir Bradley Wiggins's 2012 Tour de France yellow Pinarello Dogma — Tolo's restaurant, Port de Pollença, Majorca.
Fabian Cancellara's Olympic-winning 2008 Cervélo P3C time trial bike, along with bikes used by Tom Simpson and Johan Museeuw — Tour of Flanders museum, Oudenaarde, Belgium.
Eddy Merckx's Hour record bike from 1972 — Eddy Merckx Metro Station, Brussels, Belgium.
Hugh Porter's Carlton, used in the 1964 Olympics, and numerous World Championships — Fred Williams Cycles, Wolverhampton.
Adam Blythe's 2014 Swift Ultravox, on which he won the RideLondon Classic — The Shed bike shop, Hereford.
Bradley Wiggins's 1997 Condor — Condor HQ, London.
More pro bikes
Sky forced to borrow a bike from another team after thieves steal fleet of Pinarellos ahead of Tour du Haut
Nearly a year in the making, Pinarello's Dogma F8 is the eighth incarnation but the first to use Jaguar's computational
Thank you for reading 20 articles this month* Join now for unlimited access
Enjoy your first month for just £1 / $1 / €1
*Read 5 free articles per month without a subscription
Join now for unlimited access
Try first month for just £1 / $1 / €1
Get The Leadout Newsletter
The latest race content, interviews, features, reviews and expert buying guides, direct to your inbox!
Nick Bull is an NCTJ qualified journalist who has written for a range of titles, as well as being a freelance writer at Beat Media Group, which provides reports for the PA Media wire which is circulated to the likes of the BBC and Eurosport. His work at Cycling Weekly predominantly dealt with professional cycling, and he now holds a role as PR & Digital Manager at SweetSpot Group, which organises the Tour of Britain.