What does a pro cyclist do after retirement?
Being a pro cyclist is more than just a way of paying the bills: it is an identity, and one that is lost come retirement. We explore the trials of life after the pro peloton with some of cycling's greatest riders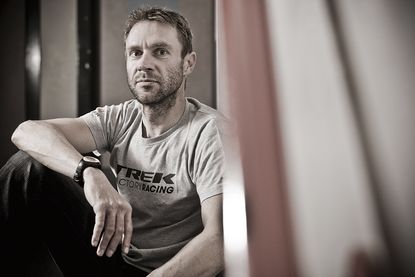 (Image credit: Chris Auld)
Get The Leadout Newsletter
The latest race content, interviews, features, reviews and expert buying guides, direct to your inbox!
Thank you for signing up to The Pick. You will receive a verification email shortly.
There was a problem. Please refresh the page and try again.
Most professional cyclists start their career in their early 20s and become used to following pre-set rigorous training programmes, having their daily lives driven by their racing calendar along with their goals for each season.
A professional cyclist's social circle consists largely of other cyclists or people working in cycling.
In addition, many pro cyclists live in hub areas like Manchester, Girona, Nice or Oudenaarde that give access to training facilities.
>>> Tips from the pros: How to look like a pro rider
So a life dominated by cycling naturally leads to a feeling of being defined by cycling, and when retirement day comes it has a huge impact on the professional cyclist, who may feel they have lost their identity.
If their retirement date is predetermined, a rider will have considered alternative activities, but managing the change, particularly the emotional aspect, can be difficult.
The Rouleur Classic cycle show, held in London late last year, hosted the great and the good of professional cycling, and included a number of retired professional racers who talked to Cycling Weekly about their lives in cycling and in retirement.
Sean Kelly managed his transition into retirement in 1994 by racing for a pro-am team in France during his final year while making his retirement plans.
With a supremely successful career behind him he was given a hero's welcome on returning to his hometown, and received offers of projects to get involved in, notably becoming a consultant for Eurosport.
He has subsequently taken up many activities including team management, setting up two eponymous cyclo-sportives, marketing a range of bicycles, a clothing range, and also running training camps in Majorca.
Similarly, German powerhouse Jens Voigt has been very busy since retiring in 2014, and has racked up thousands of air miles travelling to projects ranging from motivational speaking, charitable work and broadcast journalism to being a brand ambassador for Zwift.
Watch now: My toughest day - Sean Kelly
For David Millar, retirement has led to him reaching out into activities that are not purely about cycling.
He has revisited interests he had prior to professional cycle racing — namely design, which has seen him get heavily involved with fashioning and commercialising a clothing range.
Furthermore, Millar has switched his love for two wheels for four wheels and is now an ambassador for Maserati sports cars.
Baden Cooke, on the other hand, whose retirement came abruptly, took time to find an activity that would help him enjoy retirement.
As well as now being involved in team management and broadcast journalism, he is also the face of Factor Bikes.
Sadly, the lives of some cyclists whose careers end abruptly can end in tragedy. José María Jiménez had had difficulties during his racing career, but after being forced to retire in 2001 he suffered severe depression and ultimately died of a heart attack in 2003, aged just 32.
David Millar
Age: 39
Length of pro career: 18 years
Retired: 2014
Biggest challenge:
"The first year was really f**king hard. You spend your whole life being dictated by season, by months, by weeks since when you were a teenager.
"I Iived on a purely operational basis for 20 years of my life. Then I retire and.... boom!
"I become a January to December man with no idea about what each month is supposed to mean to me anymore.
"You're out in the real world, while your friends are still racing. So it's hard. I had to overcome it by doing something new rather than floating around.
"I had to get used to the routine of home life as my family had got used to me being on the road a lot of the time, so it felt like I had to fit into my wife's house and get used to her system."
Biggest achievement:
"Launching my Castelli-made Chpt.111 clothing range. Also being given a Maserati Levante SUV is the best thing ever!"
Pertinent quote: "I retired because I just didn't have the spark anymore. In retirement you have to take the momentum and decide whether you want it to be based on past achievements or future projects.
"I am focused on moving my retirement towards the future. When I am 50 it's going to seem like a lifetime away when I was racing.
"I don't want to turn up at events and sign photographs of me as a younger man!"
Sean Kelly
Age: 60
Length of pro career: 18 years
Retired: 1994
Biggest challenge:
"My biggest worry had been about knowing what to do, and worrying that life might be boring.
"In fact, since I have retired I have been so busy, sometimes even too busy! One thing I wanted to do was to play golf but I have not had time to do it so far."
Biggest achievement:
"Being able to stay busy and still be in demand."
>>> Cycling Legends: Sean Kelly and Stephen Roche- The Irish Masters of Cycling
Advice for retiring cyclists:
"Retirement can be dangerous for a sportsperson if you don't have anything to keep you occupied. You can start gambling, drinking.
"I know of cyclists who did fall into difficulties. Nowadays there are many more opportunities for retiring athletes to get into other activities than when I retired.
"They can work with teams, particularly as many teams will have five directeur sportifs, where previously they only had two.
"There are lots of opportunities in media, with so many channels taking on ex-pros as consultants and pundits.
Pertinent quote:
"You also need to physically adjust to normal life. You cannot train in ordinary life in the way you did as a professional, so you need to train your body down over a couple of years to allow your body to adjust slowly, and you need to train yourself to eat less."
Rochelle Gilmore
Age: 35
Length of pro career: 15 years
Retired: 2014
Biggest challenge:
"I never had a planned retirement. I simply got too busy trying to manage owning a cycling team and at the same time, trying to be a world-class athlete. I considered myself retired at the end of 2014, two years into running a few businesses.
I have not yet found a life balance. Keeping busy is a distraction and I'm not yet comfortable with relaxing."
Biggest achievement:
"I'm certainly much more busy now than I was when I was competing. I now own five businesses and have over 50 employees.
"My profile is actually perhaps a little higher since my retirement due to being on TV more; as a presenter, commentator and owner of a successful women's cycling team.
"Of course the feeling of being interviewed after a big race win gives more satisfaction but I love being on the other side and admiring the sport that has given me such a wonderful life."
Pertinent quote:
"I've recently been exposed to a friend's struggle post-retirement and the biggest sign is his isolation from his closest friends.
"He doesn't feel like the 'man' anymore and seems to be uncomfortable socialising as an average Joe or 'ex' pro athlete.
"It's very sad to see and we all feel helpless. Athletes who are professional and competing at the highest level should be appointed a career/life mentor during their careers.
Advice you can offer retiring cyclists:
"Stay physically active — ideally in a different sport. The problem with cycling for enjoyment is that you'll never be as good as you were and you'll always judge yourself harshly by comparison.
"Even though it's no longer your job, and you're not living and breathing cycling, some strange part of you still expects to be capable of what you were capable of in the past.
"This becomes easier to manage the further away from retirement you get. But stay connected to cycling, don't walk away from it. It's your passion."
Jens Voigt
Age: 45
Length of pro career: 18 years
Retired: 2014
Biggest challenge:
"My last event as a professional was the Hour Record. I remember it hitting me really hard that I will never ever be this lean and fit again.
"I will just get older, fatter, slower, and weaker. I really had to come to terms with the fact that I will have to lower my personal expectations and change the way that I look at my life now. That has been a challenge."
Biggest achievement:
"I am well aware that life has been really good to me. I had the chance to make my dream come true, and become a professional athlete.
"I feel lucky that I have a beautiful happy family and six healthy children. Now I feel a responsibility to give something back not only to cycling but to life and help people who are less fortunate than me.
"One project that is close to my heart is the Tour de Cure in Australia. It's a one-week cycling event where we raise money for the fight against cancer in Australia.
"For the last four years I have also done a small event in England where we raise around £10-15,000 for the Epilepsy Society in the UK, so I would like to do more of that."
Pertinent quote:
"Although I am at home as much as I was before I retired, the difference is I don't have to go on five-hour training rides.
"I can just be at home, and have quality time with the family. It helps to keep you grounded."
Baden Cooke
Age: 38
Length of pro career: 14 years
Retired: 2013
Biggest challenge:
"I hadn't been planning on stopping at the time I retired, I had hoped to do two years more, but it was a difficult year and there were more riders than jobs.
"When retirement happened, I was like… whoah! It was hard. I dealt with it pretty poorly, so it took some time to get a grip.
"Initially I was pretty unimpressed with myself and so was my wife, because I didn't know what to do. I didn't get any advice from anyone. My wife told me to get off the couch."
Biggest achievement:
"Rider management was quite a challenge at first, but luckily I picked up some good riders and I've got some really good talent coming through.
"Also we [with Rob Gitelis] bought Factor bikes and we have our own factory and engineering centre.
"We have sponsored One Pro Cycling and Ag2r La Mondiale and now the attraction we've got is incredible."
Pertinent quote:
"There was a time when it was really tough but now I love being retired. I look back at those days and say 'I wouldn't do it if you paid me!'"
Advice you can offer retiring cyclists:
"It all depends on the person. I am sure Fabian Cancellara would have some grand plan about what he's going to do, but with some guys I think 'you're in big trouble when you stop, mate. You should just keep riding!'"
Thank you for reading 20 articles this month* Join now for unlimited access
Enjoy your first month for just £1 / $1 / €1
*Read 5 free articles per month without a subscription
Join now for unlimited access
Try first month for just £1 / $1 / €1
Get The Leadout Newsletter
The latest race content, interviews, features, reviews and expert buying guides, direct to your inbox!