Jess Varnish considering legal action against British Cycling
Former British track sprinter Jess Varnish considering action against British Cycling for breach of contract as details emerge of independent report in culture at the organisation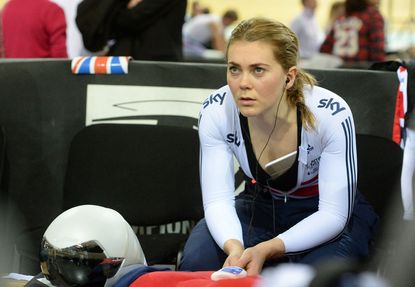 (Image credit: Andy Jones)
Jess Varnish's lawyer is preparing to take legal action against British Cycling after it has emerged that the independent review into the culture at the organisation found that her dismissal from the Olympic programme was "an act of retribution" against "a trouble maker".
Varnish was dropped from the World Class Performance Programme last April ahead of the Rio Olympics and shortly after said she had been subject to sexism and discrimination by then British Cycling technical director Shane Sutton.
Her complaint was later upheld in part but it led to a wider review of the culture at the organisation, which is yet to be published.
However, on Friday the Daily Mail published excerpts of what it said is a leaked draft version of the report, which said: "In the situation involving Jess Varnish the panel did not find explanations convincing from coaching staff that she could go from being a borderline Olympian (in fact, potentially an Olympic medallist) to not being good enough . . . within a week.
"An athlete would have to have been given a warning and also a reasonable period to improve before removal. Varnish was not given a warning or any period of time to improve. She was simply removed."
It adds: "The panel did not view her removal as an act of discrimination but in the panel's view it was on balance an act of retribution and also not contractual due process."
Speaking to the BBC on Friday, Varnish said that she has instructed her lawyer to pursue the possibility of legal action for breach of contract.
"It is something I've asked my lawyers to take a really close look at," Varnish said. "Until the main report is released that's all we can do, take a look at it. It's never been about money for me, it's just about doing the right thing."
The track sprinter signed an British Cycling Podium Programme Athlete Agreement in November 2015, just months before she was dropped, which said British Cycling would "ensure the highest ethical and professional standards from all staff".
Simon Fenton, partner at law firm Irwin Mitchell, who represents Varnish said: "It [the athlete agreement she signed] is a bit vague but basically it says we will treat you with fairness and respect. And it does appear that the investigation has uncovered a lack of fairness and respect and seems to suggest, from what I've seen, that she was removed from the programme for reasons unrelated to her performance.
"That has denied her the real possibility of winning an Olympic medal, and obviously there would be ongoing sponsorship opportunities from that, for reasons that are simply unfair."
Fenton added that nothing would happen until him and Varnish had seen the full report but that based on what he had seen the national body should expect "a writ fairly soon afterwards".
>>> Everything you need to know about the British Cycling/Sky mystery package saga
He added: "At the moment it looks pretty overwhelming… It will take a strong court to go against the conclusions of a long thorough investigation they would have good reason to decide the UK Sport investigation was wrong."
Varnish told the BBC that she feels as though she has been 'thrown under the bus' by British Cycling, but is relieved that the contents of the leaked report support her allegations.
"I feel vindicated in a way that the truth is coming out but you obviously can't turn back the clock," Varnish said. "All I want is the truth to be out there because it's the truth and that's what people should know.
"I've been pulled from pillar to post. Just to get this stage and see that it's a cover-up is huge."
She continued: "I think the facts say it for themselves. If they're overturning facts just to protect themselves and to protect the look of British Cycling. It's a lot easier for them to throw me under the bus rather than the whole of British Cycling and for the actual truth to come out."
Varnish has previously said that she wishes to return to the Olympic programme.
British Cycling has been contacted for comment for this article.
Thank you for reading 10 articles this month* Join now for unlimited access
Enjoy your first month for just £1 / $1 / €1
*Read 5 free articles per month without a subscription
Join now for unlimited access
Try first month for just £1 / $1 / €1
Having trained as a journalist at Cardiff University I spent eight years working as a business journalist covering everything from social care, to construction to the legal profession and riding my bike at the weekends and evenings. When a friend told me Cycling Weekly was looking for a news editor, I didn't give myself much chance of landing the role, but I did and joined the publication in 2016. Since then I've covered Tours de France, World Championships, hour records, spring classics and races in the Middle East. On top of that, since becoming features editor in 2017 I've also been lucky enough to get myself sent to ride my bike for magazine pieces in Portugal and across the UK. They've all been fun but I have an enduring passion for covering the national track championships. It might not be the most glamorous but it's got a real community feeling to it.