Lampre-Merida quit MPCC over Diego Ulissi case
Italian team withdraws from the voluntary organisation as confusion of rules over Diego Ulissi's return from doping ban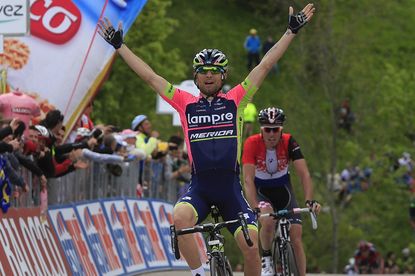 (Image credit: watson)
Lampre-Merida have officially announced that they will be withdrawing from the Movement for Credible Cycling (MPCC), after the team were unable to comply with the anti-doping rules of the voluntary organisation.
The situation arose chiefly due to the Diego Ulissi case, who after serving a nine-month ban for testing positive for excessive levels of Salbutamol last year, is set to return to racing with the team on March 28.
MPCC rules state that member teams can't sign riders who have received a suspension of longer than six months, for two years after their ban has expired.
Lampre argued that they were not signing the Italian, as he already had a contract with the team prior to his ban, however the MPCC confirmed earlier this year that the rule still applied.
If Lampre had followed the ruling of the MPCC, they may have become embroiled in legal complications over terminating Ulissi's contact early, which is potentially the team's key motivation over deciding to postpone membership with the group.
"Team Lampre-Merida officially confirms the decision to exit the MPCC, due to the impossibility of confirming there membership," the Italian team said in a press statement.
"Team Lampre-Merida will respect the obligation to keep Diego Ulissi as our employer, and with this ensuring the obligation of return to competition for the athlete – respecting the rules and regulations of the UCI – through entry to the races from 28 March 2015.
"In reference to the above, Team Lampre-Merida is obliged to postpone its membership with the MPCC, with a possible future consideration for the request of readmission at a time when the rules of the Movement, which in the past have always been respected by the team even though at times have been unfavorable, as long as the regulations are acceptable by the laws of the various bodies of reference."
Thank you for reading 20 articles this month* Join now for unlimited access
Enjoy your first month for just £1 / $1 / €1
*Read 5 free articles per month without a subscription
Join now for unlimited access
Try first month for just £1 / $1 / €1