Paris-Roubaix trophy: the most coveted cobble in cycling
The Paris-Roubaix trophy is the one piece of road that professional cyclists most want to own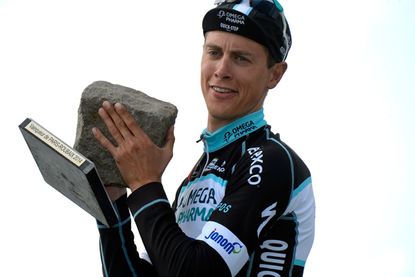 Is there a rock more prized than this? Since 1977 the winner of Paris-Roubaix has been awarded a rough, granite cube on a polished stone plinth. It's a granite sett, a cobblestone, the sort of stone used to pave roads before concrete and tarmac. Roads like those preserved in Northern France, and used for the annual battle across the infamous 'Hell of the North'.
>>> Paris-Roubaix route designed to attract Tour de France hopefuls
Cobbled roads were part of the first Paris-Roubaix in 1896 because almost every road in Europe was cobbled then. But as time passed, the cobbled roads remained in Northern France. This was largely due to coal mining in the area — the cobbled roads may be rough, but they are very tough and hard-wearing, so suited to the heavy transport used.
Over the years the cobbles, or 'pavé', came to define Paris-Roubaix. And they are its unique feature still. As mining dwindled during the 1960s, cobbles were replaced by smoother surfaces on main roads, forcing the race to switch to the back lanes to find the sections that are used today. They are preserved by a society called Les Amis de Paris-Roubaix, who work with volunteers and local authorities, spending around 15,000 euros every year to ensure that the cobbles are safe but still demanding.
Perfect fit
As cobblestones make Paris-Roubaix, no trophy fits better than this one. About 20 are made each year. The winner gets one to keep, as do the winners of the junior and under-23 races, and a few VIPs. They can even be commissioned but you have to have won to do that — Andrea Tafi, the 1999 winner, has a Roubaix cobble built into an arch in his house.
>>> Cancellara: Bradley Wiggins a serious contender for Paris-Roubaix
Since 2002 the trophies have been made by a stonemason from Orchies called Slosse Marbrerie. The cobbles are all taken from fields that surround the roads today, scattered there by the heavy bombing Northern France saw during World War I. A few surface each year, lifted by a farmer's plough, and are then placed along the field edges.
That's where Bertrand Duhem of Slosse finds them. He takes the best stones to his workshop where master mason Jean-Jacques Allou prepares them. He makes a plinth out of local limestone called blue stone; it's grey in the rough but blue when polished. The cobblestone is mounted on the plinth in the same condition it was in the road, just like those in the Arenberg Forest, the Carrefour de l'Arbre and all the other cobbled sections of this iconic race.
Thank you for reading 20 articles this month* Join now for unlimited access
Enjoy your first month for just £1 / $1 / €1
*Read 5 free articles per month without a subscription
Join now for unlimited access
Try first month for just £1 / $1 / €1