An Post team fail to find sponsor for 2018: 'implications of Brexit' played part
Time runs out for Irish team to replace title sponsor An Post, as founders Sean Kelly and Kurt Bogearts now focus on getting team ready for 2019 season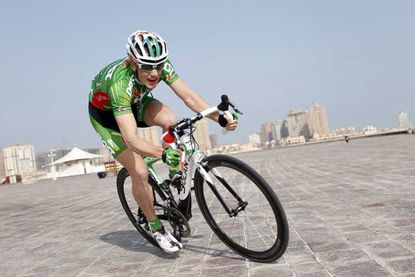 (Image credit: Yuzuru Sunada)
The Irish An Post-Chain Reaction team will not race in 2018 having failed to secure sponsorship to continue into next season.
In a statement issued on Monday, the team said that Britain's exit from the European Union and the political situation in Catalonia played their part in the difficulties in finding sponsorship. However, the squad hopes to return to race in 2019 at Professional Continental level.
"Unfortunately, time has worked against us to secure a sponsorship agreement before the October 31 deadline to compete in 2018. However, we continue to look towards 2019 and the goal of advancing to the Pro Continental level with enthusiasm," the team said in a statement.
"Despite this disappointment, the decade long relationship the team shared with An Post not only contributed to the team's success but also to the development of the sport within Ireland, for which we are most grateful.
>>> Cannondale-Drapac team announces new title sponsor for 2018
"The An Post Rás provided an annual platform to showcase the team and our riders to the people of Ireland and further afield. This in turn encouraged more people to follow our great sport."
The statement continued: "Considering the team's strong links to Spain and the United Kingdom, the implications of Brexit and the political scenario in Catalunya impacted the decisions of interested parties but we remain undeterred.
"Our next objective is to secure a collaboration with a suitable sponsor by July of next year [2018] with the hope of returning to the international peloton with a strong and dedicated roster of talented riders.
The team was founded and is managed by former professional riders Sean Kelly and Kurt Bogaerts, and has nurtured the talent of several riders who have gone on to sign with WorldTour teams.
Irish riders Sam Bennett, Ryan Mullen, Conor Dunne and Matt Brammeier all made the leap to top-level WorldTour teams after riding with the squad.
Bennett told the Irish Times earlier in October that the continuation of the team is vital for the development of Irish riders in the future.
"I think a lot of young riders don't realise how difficult life can be in the amateur ranks. The support I got with An Post prepared me in the best possible way for the WorldTour," said Bennett.
Thank you for reading 5 articles this month* Join now for unlimited access
Enjoy your first month for just £1 / $1 / €1
*Read 5 free articles per month without a subscription
Join now for unlimited access
Try first month for just £1 / $1 / €1