Sunderland to manage British pro team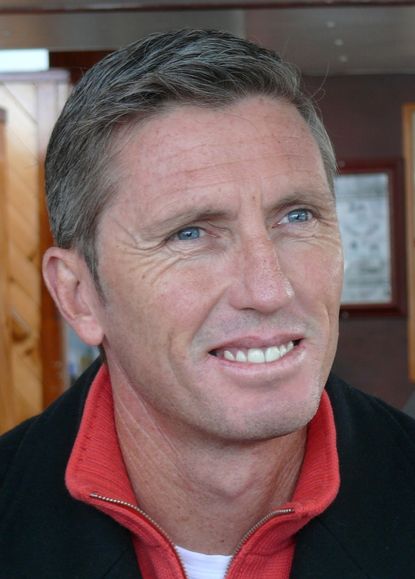 Scott Sunderland has today been confirmed as the team manager for the new British professional cycling team.
British Cycling performance director Dave Brailsford will be in charge of the general management of the new team.
With a core of British riders, coaches and support staff its HQ will be in Manchester, home to the GB cycling team. An initial squad of around 25 riders will be recruited during the 2009 calendar year. They will be supported by a team of coaches, technicians and support staff from across the cycling world, many of whom work throughout the year with British elite and developing riders.
Today, Team Sky revealed that the team's management will be under the professional direction of Australian, Scott Sunderland.
Although the official confirmation of Sunderland's role has only just been made, we spotted him talking to Brailsford at the Manchester round of the Track World Cup in November. At that point, Brailsford was coy about the meeting but did say "If you paired Rod [Ellingworth - British Cycling endurance coach] with Scott Sunderland, say, you've got a really exciting partnership there. Scott has been to all the races and knows them, while Rod would bring a fresh set of eyes."
Paving the way: Sunderland (middle) chats to Brailsford at the Manchester track World Cup in November
Sunderland is regarded as one of the world?s leading road racing managers after spending four seasons as sporting director with CSC and took Carlos Sastre to the 2008 Tour de France title.
The former Saxo-Bank team director is thrilled about the challenges ahead, Sunderland said:
"Late last season, I was approached by Dave Brailsford and Shane Sutton to become Sports Manager for the new Sky Team. Shane and Dave invited me to the British Cycling High Performance headquarters in Manchester and told me about their dream of building a British ProTour team".

"Because of the successes both these men and their staff achieved on the track, I was very keen to become part of this project which will place another ProTour Cycling team on the roads in 2010.

"Dave Brailsford did a great job securing such a solid sponsor; the sport of cycling really needs people and sponsors to believe in it. It is Brailsford's forte and winning method to plan everything meticulously and that?s exactly what we have been doing over the last few months and will continue to do in the course of 2009.

"Our project is receiving a warm welcome everywhere.

"The British Cycling Federation has achieved amazing things in track racing, especially at the Olympics last year and I perfectly understand their desire to strive for perfection in road racing as well.

"One might comment that it is a big load British Cycling puts on the shoulders of any young British rider to expect to win the Tour de France in five years time.

"But not to aim for the highest possible result within one?s reach is an insult to the God-given talent that each person possesses.

"Shane Sutton is the performance manager, he also works closely with Olympic medalist Chris Hoy, Bradley Wiggins and the other successful track cyclists. He shares my vision on how to work with athletes and how bring out the best in each of our riders.

"I think with the right guidance and support, it is so fulfilling and rewarding for any cyclist to reach the pinnacle of their natural abilities.

"Besides that, it is good for everyone, that together - and for sure in these economical strenuous times, we want to believe in better!

"Our first and main objective is to gain an invitation to the biggest races in 2010 and to do this with a credible and skilful team. My task is to make this happen and I am very excited about this."
RELATED LINKS
Team Sky teakes off: Britain's pro team dream is a reality
British pro team project: The sky's the limit
Thank you for reading 20 articles this month* Join now for unlimited access
Enjoy your first month for just £1 / $1 / €1
*Read 5 free articles per month without a subscription
Join now for unlimited access
Try first month for just £1 / $1 / €1