Team Sky stands by Servais Knaven after re-emergence of doping claims
Mail on Sunday report alleges that current Team Sky sports director Servais Knaven doped during his time as a professional rider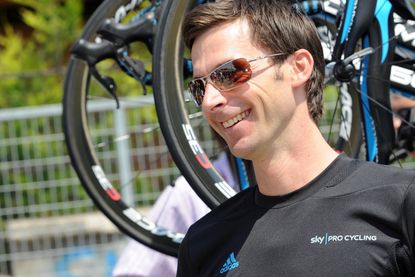 (Image credit: Watson)
Team Sky has stood behind its sports director Servais Knaven, who is leading Bradley Wiggins though the classics, after doping claims re-emerged.
The Dutchman and former Paris-Roubaix winner took EPO and other drugs at the 1998 Tour de France, according to documents reported on by the Mail on Sunday. If true, Sky would have to fire Knaven based on its internal zero-tolerance policy that saw it jettison several staff members after the 2012 season.
"A number of allegations have recently been made regarding Servais Knaven, one of Team Sky's Sport Directors. These relate to his time as a professional cyclist with the Dutch team, TVM, going back to 1998," Sky's statement read.
"We have taken these allegations very seriously. In the limited time we have had we have done everything possible to investigate them. We have interviewed Servais at length. More importantly we handed over the information presented to us to three independent world class anti-doping experts for their analysis and expert opinion. Their view on the basis of what has been presented to us is that there is no proof of doping and Servais continues to maintain his innocence. We would be happy to share these findings with any other anti-doping agency."
The Mail on Sunday reviewed court documents from a 2001 case in Reims, France, that centred on Dutch team TVM, a drug bust in 1998 and that year's Tour de France. The judge gave fines and sentences to Team Manager Cees Priem, Russian Doctor Andrei Mikhailov and Soigneur Jan Moors.
The team's cyclist escaped punishment in exchange for helping with the case. The files, according to Saturday's article, revealed tests that showed EPO in Knaven's blood. They found cortisone and Naftidrofuryl in his urine. It added that bags of blood thinner Persantin were found in Knaven's room.
It wrote that Knaven at the time, did not contest the findings, but said that there could be another reason besides doping for the EPO findings in his blood.
"A number of allegations have been made against me about my time as a professional cyclist," Knaven said on Saturday. "Many go back over 15 years and were contested at the time. I want to make it crystal clear – I never used performance-enhancing drugs at any point during my professional career. I have said this throughout. I repeat it today."
Others on TVM's team admitted to doping, including former Sky sports director, Steven de Jongh. De Jongh said in 2012 that he used EPO in his career and had to quit Sky. He is now a sports director at team Tinkoff-Saxo.
Sky stood by its zero-tolerance approach, which no other top team uses, and its examination of Knaven.
Already in 2012, it had meetings with all the cyclists and staff including Knaven. The 44-year-old joined the team in the winter of 2010.
"We have had a clear anti-doping policy from the start which we reiterated in 2012. We are proud of the leadership role we have played in helping move the sport on to a brighter future and showing you can win clean," Sky said.
"It is important to remember that no charges were ever brought against Servais. This goes back over 15 years and has been looked at several times during that period. Servais has played an important part in the success of Team Sky over the last five years. He remains a valued member of the team."
Knaven is one of the sports directors this week at Paris-Nice with Bradley Wiggins. He is due to follow the classics team through Paris-Roubaix, Wiggins last race with Sky.
Thank you for reading 20 articles this month* Join now for unlimited access
Enjoy your first month for just £1 / $1 / €1
*Read 5 free articles per month without a subscription
Join now for unlimited access
Try first month for just £1 / $1 / €1