Top 11 pro riders to follow on Twitter
It's not all about the number of followers...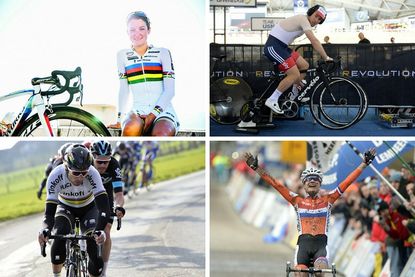 As we tell you every week, cyclists and Twitter is often a fantastic combination, and the simplest way to decide who to follow on Twitter, Instagram and Facebook might well be by their number of existing followers.
Multiple Grand Tour winner Alberto Contador counts over a million followers on his verified Twitter account, but the laughs and insights Alex Dowsett gives his 65k followers are often far more interesting.
For this list we've chosen the top 11 pro riders to follow on Twitter based not just on their number of followers but also the content of their posts and the regularity with which they give their fans a glimpse into their lives when racing, training and a lot of the time, eating.
Further to the 11 presently active pro cyclists, we've also selected some former pros, team managers and others whose 140 character outbursts might be worth a look.
Pro riders
Peter Sagan: 385k Twitter followers
One of Peter Sagan's great qualities is his showmanship, and a big part of that is his ability to laugh at himself. Seemingly always coming second, he was first when it mattered and is a deserving World Champion.
Tweeting mostly in English for his international army of fans, the Slovak gives us a look at the life of one of professional cycling's big personalities.
Alberto Contador: 1.5m Twitter followers
This year might or might not be the Spanish rider's final season as a professional, but either way he's had a long and celebrated career (plus a bit of controversy).
He treats his seven figure follower base to finish line photos, coffee stop selfies and training videos. All helpfully posted in both Spanish and English.
Chris Froome: 838k Twitter followers
Falling behind in the follower stakes to his long time rival, Chris Froome is probably less bothered about overhauling Contador on Twitter than he is overtaking his huge palmarès.
Another fan of race finish photos and regular training selfies, he also shows us how bleak your breakfast needs to look if you want to win a Grand Tour.
Geraint Thomas: 236k Twitter followers
Always great value, Geraint Thomas really deserves to have more followers - if we are to continue believing that social media presence equates to achievement in real life.
Heading into 2016 with an eye on transforming himself into a GC contender after his awakening at the 2015 Tour de France, the Welshman is probably far more concerned with plans for the season than the blue tick next to his name.
Mark Cavendish: 1.11m Twitter followers
Another rider with a huge Twitter following is Mark Cavendish. Training updates, retweets and a bit of advertising fill the feed of the British sprinter, and things normally get more interesting when the big races come around.
Sir Bradley Wiggins: 209k Instagram followers
Sir Brad left Twitter a few years ago after being relentlessly trolled. Thankfully he still makes use of his Instagram account to show us present goings on.
Top posts include a glimpse of his pre-Olympics weight gain, walking two massive dogs and everyone having a look at Andy Schleck's stem at the 2009 Tour de France.
Lizzie Armitstead: 114k Twitter followers
Present World, Commonwealth and National Champion, Lizzie Armitstead talks about training, nutrition and the general toing and froing of being a professional cyclist.
Plus a bit of social commentary.
Marianne Vos: 95.5k Twitter followers
One of the greatest cyclists ever to grace two wheels, and a rider who will hopefully be back at the top of the sport this season, Marianne Vos's tweets tell us what she's up to, what she was up to on this day a few years ago and also give us a bit of #MondayMotivation from time to time.
Alex Dowsett: 65.3k Twitter followers
A very regular feature in tweets of the week, Dowsett's postings are great because of how down to earth they are.
This bloke once beat Wiggins in a time trial at the Giro d'Italia but he'd still say hello if you saw him out riding the lanes of his native Essex.
Helen Wyman: 11k Twitter followers
The multiple British cyclocross national champion is also a key member of the UCI commission looking at how to gain equality for women's 'cross racing.
She spends most of the year in Belgium (where else would a CX champ live?) and likes to let her fans back in Britain know that the weather is pretty much the same in Flanders as it is here.
Dan Craven: 9,699 Twitter followers
With one of the best beards in the peloton, Dan Craven is pretty easy to spot.
The Namibian rider finds himself turning a pedal in areas where others might not venture, which just adds to the interest around his social media presence.
Strava gives a great insight into the effort needed to compete in the Tour de France, and we've rounded up
Retirees
Lance Armstrong: 3.84m followers
The Texan's tweets are the most interesting when he's replying to and antagonising people. Despite his fall from grace and the abuse he gets on social media, people are still following and on the whole must still be interested in what he has to say.
Jens Voigt: 233k Twitter followers
Despite being retired, Jens Voigt is keeping up to date with the peloton and one of his predictions came good when Jesper Stuyven won Kuurne-Brussels-Kuurne.
Chris Boardman: 130k Twitter followers
He may be one of the fastest time trialists and track riders ever but nowadays Chris Boardman is a lot more focused on making cycling in Britain an everyday activity for everyone.
He lobbies MPs and London Mayoral candidates and campaigns to get better investment in safe cycling infrastructure in the UK's town and cities.
David Millar: 199k Twitter followers
Young hope for great things, a doping ban, then a second chance based around his campaign to clean up cycling, David Millar became an outspoken voice in the peloton.
Now retired, he's still making his voice heard and often saying what many others in cycling were thinking.
Patrick Lefevere: 37.6k Twitter followers
Following Etixx-Quick Step CEO Patrick Lefevere on Twitter is a bit like following your dad or favourite uncle. Look, his shadow's in the selfie.
Others
Ion Göttlich: 333,988 Facebook likes
This fictional creation of South African animator Claudio Pavan, Ion Göttlich is more popular online than many real track riders.
The funnier alter ego of former British national champion turned pundit Matt Stephens, KvV often comes out with some very funny tweets:
Thank you for reading 20 articles this month* Join now for unlimited access
Enjoy your first month for just £1 / $1 / €1
*Read 5 free articles per month without a subscription
Join now for unlimited access
Try first month for just £1 / $1 / €1