Trek Factory Racing set for change in 2015
Trek Factory Racing is preparing itself for a revamp for 2015. Is it really a case out with the old and in with the new?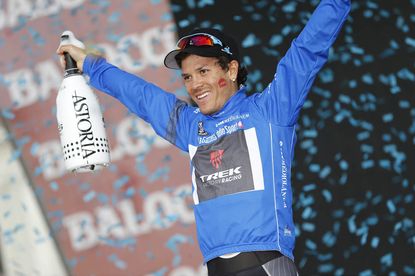 (Image credit: Watson)
One of the hottest rumours during the Tour de France was the transfer of Bauke Mollema from the soon-to-be-defunct Belkin to Trek Factory Racing. Predictably enough, nobody was confirming the move but it looks like the 27-year-old Dutchman will be with Trek in 2015.
Even if Mollema stays put with the new Lotto–Brand Loyalty team set to take over from Belkin, Trek has announced that it intends to change the make-up of its squad.
"Trek is investing money and really trying to create a new team and not simply take up the reins of the old RadioShack squad," explained directeur sportif Alain Gallopin, "so it's clear that there will be a period of reconstruction, it's obvious that some of the older elements of the team will be stopping and replaced by a younger generation, which is where the team will be investing."
Not that there's going to be some kind of hideous ageist cull at Trek, although the continued presence of the Schleck brothers, Frank and Andy, looks doubtful.
"Even if you do build a team composed of younger riders, you still need guys with more experience, especially during the Tour de France, where there is no doubt that experience counts for a lot in coping with the race. But it's obvious that Luca (Guercilena, team owner) is looking for riders for the general classification and that is essentially his job, even if the directeurs sportif can offer advice.
"From my point of view, when you are looking to recruit riders, you need to look for the guys who are always there, in the right place at the right time. It's tricky though, because, for example, last year we spent the budget building a Classics team around (Fabian) Cancellara, so we had to let some riders go and there was less money to build a Tour team.
"We had a great team for the Classics, but that cost us in terms of building a Tour team which, in any case, takes a little time to bring together. At the moment Trek is a team in transition, but I'd say that if we come to the Tour next year with Julian Arrendondo we have many more chances to win a stage rather than with the riders we have here, guys like Gregory Rast and Markel Irizar," concluded Gallopin.
You can pencil it in now. The Trek Factory team for the 2015 Tour de France comprises Mollema, Arredondo and seven others…
Trek Factory Racing rumoured to be looking for new general classification contender
Thank you for reading 20 articles this month* Join now for unlimited access
Enjoy your first month for just £1 / $1 / €1
*Read 5 free articles per month without a subscription
Join now for unlimited access
Try first month for just £1 / $1 / €1