Custom carbon manufacturer Parlee saved from closure by 'avid cyclist' investor
With the acquisition, Parlee officially exits Chapter 11 bankruptcy and secures future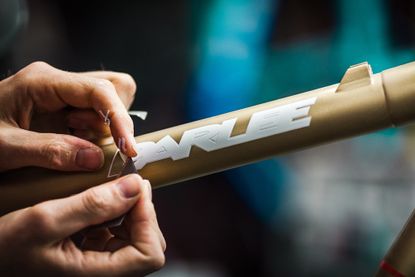 (Image credit: Parlee Cycles)
Eight months after filing for bankruptcy, bespoke bike brand Parlee Cycles has been acquired by an independent investor, thereby securing its future.
The 23-year-old American brand, renowned for its custom carbon frames with superb ride quality, will operate under a newly formed entity named Parlee Composites, Inc. led by investor John Harrison in the role of President and CEO.
Founder Bob Parlee, who started the brand as a one-man shop, will step into the role of Chief Designer, which will allow him to turn all his attention to the design and development of future models.
"There are many thousands of Parlee fans around the world and I am delighted to be able to shepherd the organization into this new era and continue to deliver products that delight our customers," said Harrison in a statement.
"The scope of our plan is audacious. We're simultaneously expanding the business and working on some truly amazing new projects that we'll be excited to announce in 2024 and 2025."
Parlee Cycles becomes Parlee Composites
One of the earliest custom carbon bike manufacturers in the world, Parlee was founded in 2000 and quickly grew from a one-man shop into a highly desirable race frame manufacturer with world-wide distribution.
To reach a wider audience, Parlee decided to take some of its production overseas, designing several stock molded monocoque frame models to be manufactured in Asia while continuing to hand-build its top-end bikes in-house in Beverly, Massachusetts.
But the pandemic supply chain struggles hit the brand hard, and in February 2023, Parlee Cycles filed for a Chapter 11 bankruptcy in the state of Massachusetts. Also known as a "restructuring" bankruptcy, the company can propose a plan of reorganization to keep the business alive and pay Its debt over time. Often, this involves an infusion of capital by an investor or a partnership with another company.
"The struggling, in a way, is more about business challenges and less about the product. COVID really disrupted the supply chain, both in terms of our ability to secure frames and forks but also in our ability to secure the right amount of components and then manage the cash flow associated with the business," Jamie Bradley, Parlee's COO, told Cycling Weekly.
"It's really challenging times in the business...we decided that the best path forward for us was to basically hit a restart."
This restart has come in the form of John Harrison, an independent investor with a wealth of experience in funding, running and growing companies, primarily in the technology sector. He's also an avid cyclist, the press announcement states.
In the past few months, Parlee as been continuing operations as usual albeit in a "more bootstrapped operation." The future, however, centers around growth as the company teased several new models and the hiring of new staff.
"Parlee Composites is committed to fostering growth of the legendary brand through manufacturing innovation, expansion of their global dealer network and the introduction of some exciting new models," the brand revealed in a statement.
"The existing Parlee Cycles team will transition to the new organization and Parlee Composites expects to begin hiring almost immediately to support the growth anticipated in 2024."
Thank you for reading 20 articles this month* Join now for unlimited access
Enjoy your first month for just £1 / $1 / €1
*Read 5 free articles per month without a subscription
Join now for unlimited access
Try first month for just £1 / $1 / €1