AG2R to ride Eddy Merckx bikes next season
A legendary name returns to the WorldTour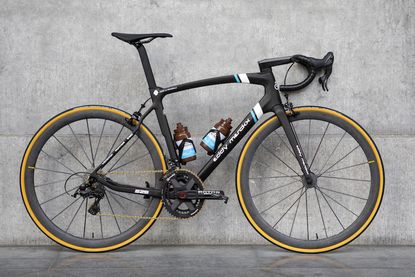 From next year, AG2R La Mondiale and their star rider Romain Bardet will be riding Eddy Merckx bikes. The agreement to ride Eddy Merckx machines will be for the next two seasons, with the option of a two year extension.
For the last few seasons, AG2R has been riding Factor machines. But Factor announced earlier this year that that relationship was ceasing.
According to Jochim Aerts, CEO of Belgian Cycling Factory: "It's really marvelous news for our bike brand. Timing couldn't be better either. Next year, the Tour de France will start in Brussels, with Eddy Merckx himself as the main guest. It will be 50 years ago Eddy has won his first Tour de France. Perhaps Romain Bardet can do the same, riding an Eddy Merckx. It's a dream coming true."
Merckx himself says: "I'm proud to have a WorldTour team riding Eddy Merckx bikes at the Tour de France next year as a tribute to the 50th anniversary of my first Tour victory."
Eddy Merckx bikes was merged into Ridley Cycles last year. So with its existing commitment to the Lotto-Soudal team, who ride Ridley bikes, the Belgian Cycling Factory brands will be making the not inconsiderable commitment to support two WorldTour teams next year.
AG2R La Mondiale will be riding Eddy Merckx's new flagship model, the 525, with retail availability planned for the start of the Tour de France.
According to Belgian Cycling Factory, a size medium 525 weighs 6.8kg without pedals. Wind tunnel tests in the company's own facility show that it's very aero too, while improving frontal stiffness over the previous model.
Components on the 525 used by AG2R La Mondiale will come from a number of brands: wheels from Mavic, tyres from Vredestein, Super Record shifters from Campagnolo, 2inPower chainset and power meter from Rotor, chain from KMC, Alanera bar-stem from Deda and pedals from Look. Lezyne will supply its cycling computers, while Lizard Skins is responsible for bar tape and bottles and cages will come from Elite.
Thank you for reading 20 articles this month* Join now for unlimited access
Enjoy your first month for just £1 / $1 / €1
*Read 5 free articles per month without a subscription
Join now for unlimited access
Try first month for just £1 / $1 / €1