Garmin launches two new cycling computers, including a compact Edge 130 model
Three new products from the computer company, including a mini Garmin 130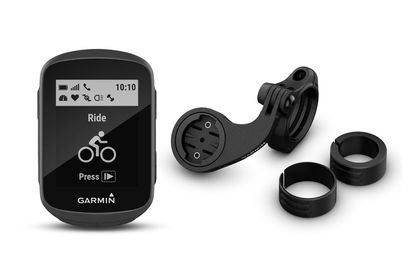 Garmin has launched three new products, including two new cycling computers and new rearview sensor.
The Garmin Edge 130 is a new, compact cycling computer which Garmin says is for use on any ride, anywhere you go. Meanwhile, the brand has also released the Garmin 520 Plus, an update to the existing model with more sophisticated navigation and performance features.
Garmin Edge 130
The Garmin Edge 130 is the newest, original cycling computer from Garmin and is almost the exact opposite of its latest release, the Garmin Edge 1030, which was the largest cycling computer Garmin produced.
This time, at just 1.8-inches, the computer has a small compact design with a rugged edged case. It might come as a relief to some users to hear that the new computer is not a touch screen device, but rather has buttons on the sides and bumper.
Despite its size, Garmin says that the new computer is jammed full of features. It's capable of navigating and providing turn-by-turn directions. To accompany this, the company says it has also updated the Garmin Connect Course Creator to allow users to more easily design routes and download them. The computer uses GPS, GLONASS and Galileo satellites to help track your location.
For those interested in pushing their performance, the new computer is also compatible with power meters as well as Strava Live segments. The device has a claimed battery life of 15 hours and can connect with smart phones for text and phone call notifications.
Price wise, the Edge 130 will retail at £169.99 or is available as a bundle with a heart rate monitor for £199.99. Garmin as also pushing the new device at mountain bikers, and a special off road bundle is available for £199.99.
Garmin's next smallest computers, the Edge 20 and 25 retail at £109 and £139 respectively, although it sounds like the Edge 130 has a lot more features. We'll let you know when we get a model to test.
Garmin Edge 520 Plus
The Garmin Edge 520 Plus is an update to Garmin's best selling Edge 520 model. The focus of the new device is on navigation, and the new product has Garmin Cycle Maps pre-loaded and is capable of giving turn-by-turn assistance or guide users back to start or back to their route should they get lost.
The 520 has always had a focus on performance, and that continues with the 520 Plus which now has Best Bike Split Race Sync app pre-installed as well as TrainingPeaks as standard. It's compatible with cadence, speed and heart rate sensors as well as ANT+ power meters such as Garmin's Vector 3 pedals.
Much like the Garmin Edge 1030, the 520 Plus can show riders their physiological data, including Vo2 Max and recovery time.
Battery life of the new device is a claimed 15 hours and the individual unit will cost £549.99, while a bundle including heart rate, cadence and speed is available for £349.99. A mountain biking specific bundle is available for £299.99.
Garmin Varia rearview radar
Both of the Edge 130 and the Edge 520 Plus are compatible with the new Garmin Varia rearview radar, and can act as a display unit for the new radar. Garmin says these updated devices will help keep cyclists safe on the road by alerting them to approaching vehicles.
The rearview radar display unit alerts cyclists with lights and sounds, even when cars are up to 140m away. Garmin claims that the tail light can be seen up to 1.6km away and is visible with a 220 degree range.
The rearview radar has a claimed 15 hours of battery life in day flash mode, or six hours in night flash or solid mode. It'll retail at 169.99 or in a bundle with the display unit for £259.99.
Thank you for reading 20 articles this month* Join now for unlimited access
Enjoy your first month for just £1 / $1 / €1
*Read 5 free articles per month without a subscription
Join now for unlimited access
Try first month for just £1 / $1 / €1