New Canyon Inflite CF SLX revisits the cyclocross bike fundamentals
Kinked top tube, integrated cockpit and 650b wheels on smaller sizes on Canyon's carbon cyclocross race machine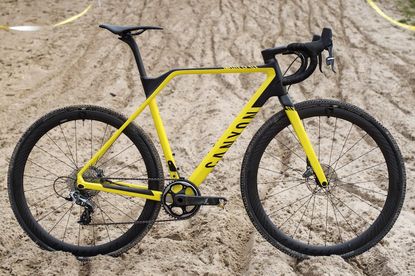 (Image credit: Rene Zieger)
For the new Canyon Inflite CF SLX carbon cyclocross race bike, launched today, Canyon has developed new solutions to some of the most basic needs of cross racers.
Novel frame features
Making the bike easy to carry is a fundamental requirement for cyclocross. It's particularly important for smaller frame sizes, where shouldering space can be limited with a sloping top tube design. That's why many cyclocross bikes come with horizontal top tubes.
But a longer seatpost improves ride quality and handling over bumpy terrain, allowing you to race faster. To add shoulder room while increasing the free length of the seatpost by up to 110mm, Canyon has designed a bend in the top tube. The Inflite CF SLX was developed for racing and its kinked top tube design is UCI legal.
The seatpost is secured by a wedge under the front side of the top tube junction, so adding around 15% extra flex and reducing weight over a conventional seatpost clamp. This patented design lets Canyon keep the top tube horizontal for a gain in shoulder room of up to 37mm over a sloping tube design. It's already received a 2017 RedDot award.
There is also plenty of wheel clearance: with 33mm tyres, there's more than 9mm clearance and you could easily fit tyres up to 40mm. There are also mud shedding features like a sloping top edge to the drive side chainstay.
>>> Cycling Weekly Adventure Cross series
Cable runs are fully enclosed and their entry and exit points are sealed, as is the seatpost/seat tube junction and the seatpost clamp. Wheels run on 12mm thru-axles with removable levers and there are two sets of bottle bosses. The headset bearings are an untapered 1 ¼ inch top and bottom for added steerer rigidity.
The Inflite CF SLX has a claimed frame weight of 940g and a complete frameset weight of under 1300g for a size M. Canyon says it's used its in-house CT scanner to ensure that frame wall thickness is optimised and to examine the results of its stress tests, which have included simulated jumps and remounts.
>>> Six best cyclocross bikes for 2017: a buyer's guide
Integrated cockpit, single and double chainring options
The Inflite CF SLX comes with Canyon's new H31 Ergocockpit CF. A single piece carbon fibre bar and stem, Canyon says that this adds stiffness, is lighter than a conventional bar-stem set-up and is also more compliant.
The bars also have a shorter stem length and are wider than a conventional set-up. Borrowed from mountain bikes, this geometry leads to sharper, more accurate handling. It's a trend we're seeing on gravel bikes too.
Equivalent stem lengths on the Inflite are frame size specific and range from 70mm up to 110mm, while bar width increases with frame size from 400mm up to 460mm.
There's a six degree backward sweep to the bar tops and an ovalised aero section which helps distribute hand pressure. This also shortens the bar reach. There's a three degree flare to the drops for better control and comfort.
Canyon has designed the Inflite CF SLX to be compatible with both single and two ring options, and offers bikes with both in the range. Its single ring bikes come with a 13g chain catcher mounted in place of the front mech.
The single ring bikes come with Quarq Prime chainsets. These allow you to fit a Quarq DZero power meter, without needing to change the cranks.
Wide size range
Canyon offers the Inflite CF SLX in eight sizes, from 3XS with a top tube length of 501mm up to 2XL with a 617mm top tube. Rather than try to fit 700c wheels into its smaller sizes, the 3XS and 2XS come with 650b wheels. Canyon fits 650b wheels on smaller sizes in its new women's road bike range too.
650b wheels allow Canyon to keep the frame geometry and trail short for sharp handling, without toe overlap becoming a problem. Chainstay length is decreased to 415mm from the 425mm on 700c variants. Canyon says its smallest frame will fit riders of 152cm in height.
>>> 15 year old tyres used to win Cyclocross World Championship
Canyon also specs shorter stems and narrower bars on its smaller sizes, with five different bar sizes across the size range. And whereas the smallest frames have 140mm brake rotors front and rear, larger bikes switch to 160 front and 140 rear, with the XL and 2XL bikes getting two 160mm rotors. In addition crank length increases from 165mm up to 175mm as frame size increases.
Specifications and prices
Canyon's new cross bikes will be offered in three specification levels. The full range and prices are on Canyon's site.
First up is the £2499 ($2749, EUR2799) Inflite CF SLX 8.0 Pro Race. This comes with a SRAM Rival 1 groupset with 40, 11-36 ratios, a Quarq Prime chainset and a mid cage mech. You get DT Swiss CR1600 Spline DB tubeless ready alloy clinchers with Schwalbe X-One 33mm tyres. The Canyon carbon Ergocockpit is included and there's a Selle Italia SLS saddle on Canyon's 27.2mm carbon seatpost. Claimed weight is 8.1kg.
The mid-range Inflite CF SLX 9.0 comes with a Shimano Ultegra drivetrain with a Rotor 3D30 chainset. Gear ratio are 46/36, 11-30. Again, the wheels are DT Swiss CR1600 Spline DB with Schwalbe X-One tyres, while the saddle gets an upgrade to a Selle Italia SLR Lite. Claimed weight is 7.9kg and price is £2899 ($3149, EUR 3199).
Top of the tree is the £3599 ($3899, EUR 3999) Inflite CF SLX 9.0 Pro race. With a claimed weight of 7.6kg, this comes with SRAM Force 1 and a Quarq Prime Carbon chainset with 40, 11-36 ratios. Wheels are carbon Reynolds Assault LE Disc and the saddle is a Selle Italia SLR Lite.
You can also buy an Inflite CF SLX frameset for £1799 ($1949, EUR 1999).
Ride and handling
We rode the Inflite CF SLX through the sandy woods around Zonhoven in Belgium, scene of the Superprestige cyclocross race coming up on October 15. Here's Canyon's launch video shot in the area, including its famous De Kuil sandpit.
It's a bike that feels very nimble over and around obstacles. Its light weight helps with shouldering and means that the bike accelerates well.
>>> Guide to racing cyclocross
I liked the Ergocockpit, the wide tops and flared bars helping with handling and hand pressure distribution when riding over roots and uneven ground. The backward sweep made for a comfortable hand position too.
We're fans of SRAM 1 groupsets for cyclocross here at Cycling Weekly and Canyon's set-up and ratio choice worked well, although the chain catcher is prone to rub if you start to collect mud or sand during a race.
>>> Icons of cycling: Three Peaks Cyclocross
All-in-all the Inflite CF SLX is an impressive new entrant to the cyclocross world, with an innovative design, competitive spec and top flight racing credentials that's up with the best crossers we've ridden.
Thank you for reading 20 articles this month* Join now for unlimited access
Enjoy your first month for just £1 / $1 / €1
*Read 5 free articles per month without a subscription
Join now for unlimited access
Try first month for just £1 / $1 / €1