Shimano 105 R7000 vs Shimano 105 R5800: what are the key differences?
Shimano 105 R7000 vs Shimano 105 5800: what changes has Shimano made and what are now the key differences between new and old 105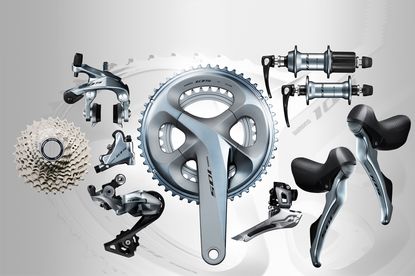 The Shimano 105 R5800 groupset is no more, long live Shimano 105 R7000, a newer, more sophisticated version of Shimano's do-it-all groupset.
Both visually and technologically, 105 is now very different, because Shimano wanted to create a groupset that's was as ready to race as its more expensive siblings Ultegra R8000 and Dura-Ace R9100.
>>> Shimano grouspsets compared
So, how exactly does it differ from the old model, and how has Shimano created a race-ready weapon? Read on to find out.
Shimano 105 R7000 mechanical vs Shimano 105 R5800 mechanical
For years, the Shimano 105 mechanical groupset has been the bread-and-butter of the majority of riders, so to see it receive an overhaul is enormously exciting. The aesthetic differences between the two are immediate. The new groupset gets the updated, black and gloss chainset (although it's also available in silver) that's identical to Shimano Ultegra R8000 – stubby cranks and all.
The new-look crankset is available as a 54-39, 52-36 or 50-34 and can be partnered with an 11-30 or 11-34 (which is 10 speed compatible) cassette, signalling Shimano's intention that this is a groupset capable of varying riding styles. Previously, with Shimano 105 5800 the cassette was available in three different options, 11-32, 11-28 and 12-25.
Shimano has also repositioned the inner ring so that it reduces the effects of cross chaining, which could make the difference for those who race but don't want to fork out for Ultegra. It does however, make the rings no longer compatible with the old front derailleur design.
Watch: How to service road caliper brakes
Moving up to the controls, the new Shimano 105 R7000 hoods and levers get the same ergonomic do-over that Ultegra R8000 received. That means a down-sizing of the whole hood, making it far less bulky in the hand to the previous 105 and the addition of a chamfered top, which should make it easy to hold in the rain or with sweaty hands.
Again, the new R7000 front derailleur receives the same good looks as Ultegra R8000. It has a compact toggle designed, better tyre clearance and an integrated cable tension port removing the need for an in-cable barrel adjusted.
The rear mech on the new 105 is also light years ahead of the older version. It receives Shimano's mountain bike Shadow technology that pulls it up underneath the cassette and chainstay and out of harms way. There are two rear mechs available, including the optional long cage version which can accommodate an 11-34t cassette. Previously, the longest cage available could only handle a 32t sprocket. Both the front and rear derailleurs should offer the same light, short-stroke shifts as the Ultegra model.
Shimano 105 R7000 hydraulic vs Shimano 105 RS505 hydraulic
It took a bit of time for Shimano to add a hydraulic braking option to the old 105 groupset, and when it did it never branded it Shimano 105, instead calling it ST-RS505. Eagle eyed readers will point out that you can buy a Shimano 105 5800 hydraulic groupset, and while that's correct, they're not technically "105" hydraulic brakes, just simply made to work with the rest of the products.
Shimano 105 R7000, however, officially has its own hydraulic brakes, and they're identical to Ultegra's R8020 versions. That means the hoods are smaller than the previous RS505 versions, and the new-ergonomically shaped levers have a wider range of reach adjustment to suit different hands. With this newest version of 105 there's also the option to use the ST-R7025 levers which are better suited to smaller hands by being angled closer to the bar and taking more of an outboard position.
There's new BR-R7070 calipers that are compatible with Shimano's latest ICE Tech pads and SM-RT70 rotors, including 140mm sized ones.
What about Shimano 105 R7000 Di2?
If you were hoping that this latest iteration would be the coming of electronic 105 then I'm afraid we've got some bad news. It's not. The good news is that 105 still comes in the silver colour way to better suit those classic bike frames.
Currently, we have no news on materials, weights or prices. As soon as we have this information we'll update this piece.
Shimano 105 R7000 prices vs Shimano 105 5800 prices
Things get even more interesting here, with Shimano 105 R7000 actually being cheaper across many components. The older Shimano 105 5800 prices are on the left:
105 chainset FC-5800 154.99 vs 129.99
105 shifters ST-5800 £224.99 vs £194.99
105 front derailleur FD-5800 £34.99 vs £34.99
105 rear derailleur RD-5800 £49.99 (GS)/£46.99 (SS) vs £47.99 (GS)/£44.99 (SS)
105 brakes BR-5800 £49.99 (front)/£44.99 (rear) vs £41.99 (front)/£37.99 (rear)
105 cassette CS-5800 £54.99 (11-32), £49.99 (11-29, 11-25) vs (£47.99/£42.99)
RS505 hydro shifters and calipers £524.99 a pair vs £469.98 a pair
Thank you for reading 10 articles this month* Join now for unlimited access
Enjoy your first month for just £1 / $1 / €1
*Read 5 free articles per month without a subscription
Join now for unlimited access
Try first month for just £1 / $1 / €1